Taking pride of place on our stand at Chelsea Flower Show in 2019, this three-quarter span greenhouse now sits beautifully in the garden of a new eco-home.
Read On

Bespoke Traditional Greenhouse
Project Overview
As an avid horticulturalist and professional florist, our client was looking to upgrade their old rickety greenhouse. In her research, she enjoyed the classic Victorian Greenhouse aesthetic. After a visit to Alitex here at Torberry Farm, and a tour around our factory, the seed was sown.
In search for low maintenance, aluminium was the firm choice. Powder coated in Sussex Emerald to compliment the window frames, the lean-to greenhouse sits proudly alongside the lovingly built eco-home at the top of the garden. With plenty of space on the patio, our clients enjoy sitting outside the greenhouse and basking in the breath-taking view.
The extended double lobby enlarges the space, with a secondary door on the gable end for practicality. A partition in the other gable creates an area with a higher temperature which is helpful with the germination of seeds. It is also a useful storage area, with a sink for cleaning pots and making tea and coffee – a handy feature for when friends come to visit! Our Water Reservoir and Pump sits neatly beneath the Traditional Greenhouse Benching, and the collected recycled rainwater is all our client uses to water her plants.
Designed with the south-facing orientation in mind, the rear wall expertly absorbs the heat from the sun. With sunshine all day long, the greenhouse is a glorious environment to work in. Even on the warmer days, there is always enough ventilation between the two open doors.
The lean-to design allows for use of the full height of the wall. Our client find the Vines Wires a handy way to store her Dahlia bulbs (dug up before the frost), next to her self-sown clambering tomatoes. A permanent wood burner is also a much loved feature of the greenhouse, creating an extra cosy room away from the house on chilly days, as well as keeping the plants happy. The chimney was designed to be built through the wall.
Our client sows seeds on her Traditional Greenhouse Benching, pops them in the Propagator to get them going, then leaves them in the warmer, partitioned room, before putting them into the Cold Frames to harden off. Homegrown salads often compliment mealtimes, and flowering plants add a decorative touch, both in the greenhouse and inside the home.
All photos are credited to Julia Currie Photography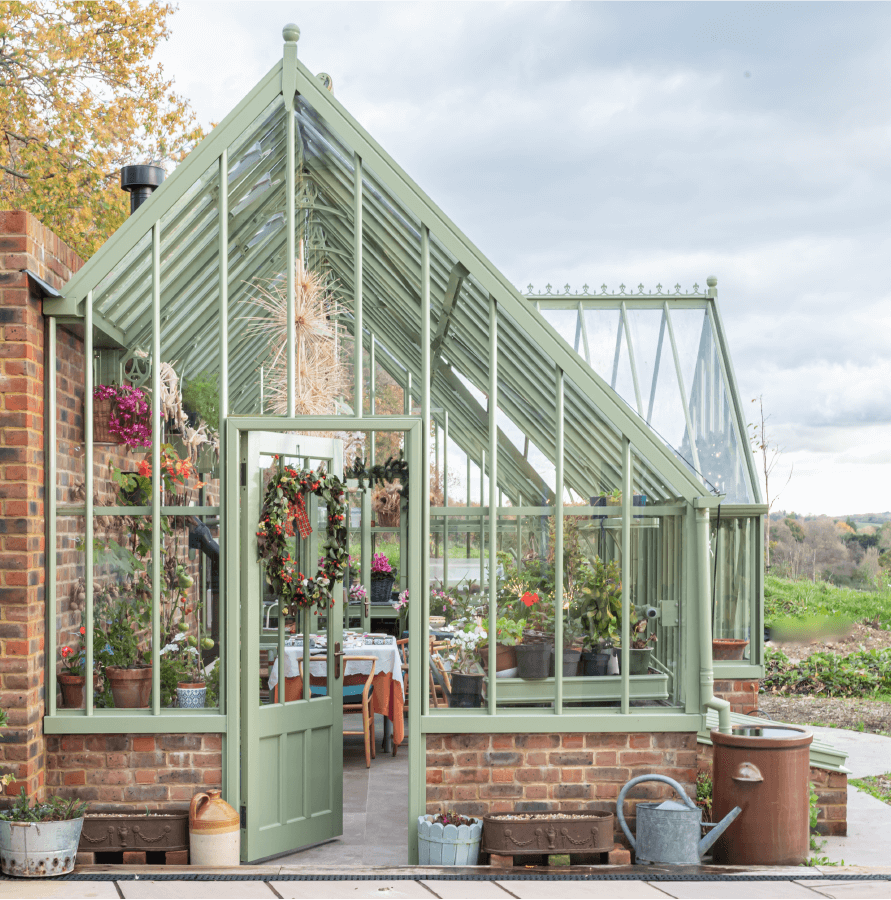 The three quarter span roof creates increased vertical space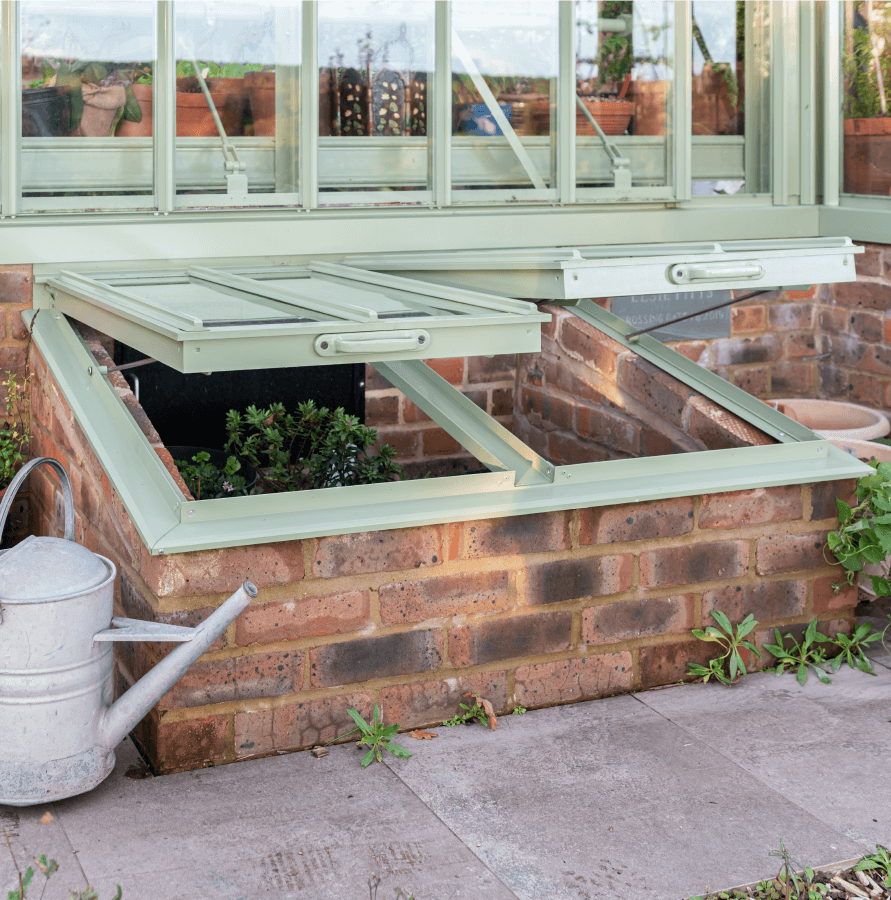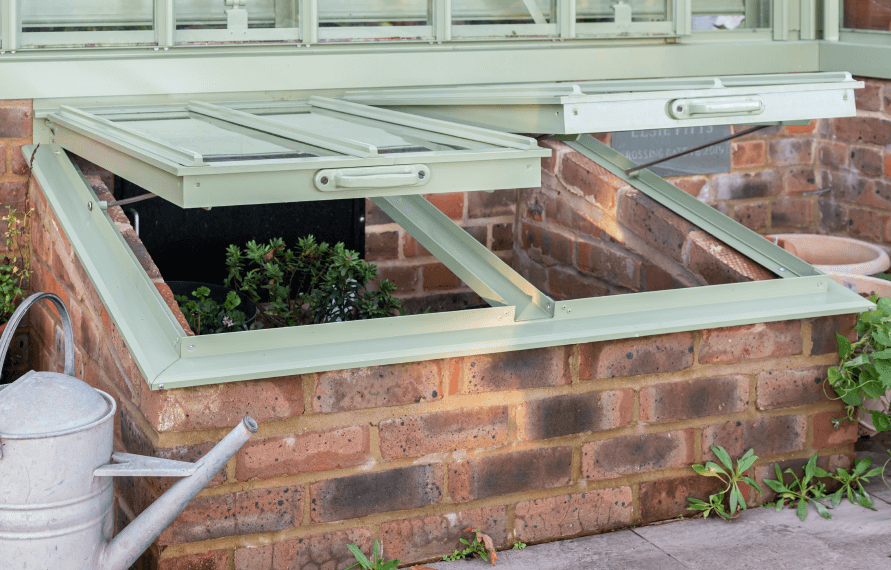 Cold Frames are great to harden off plants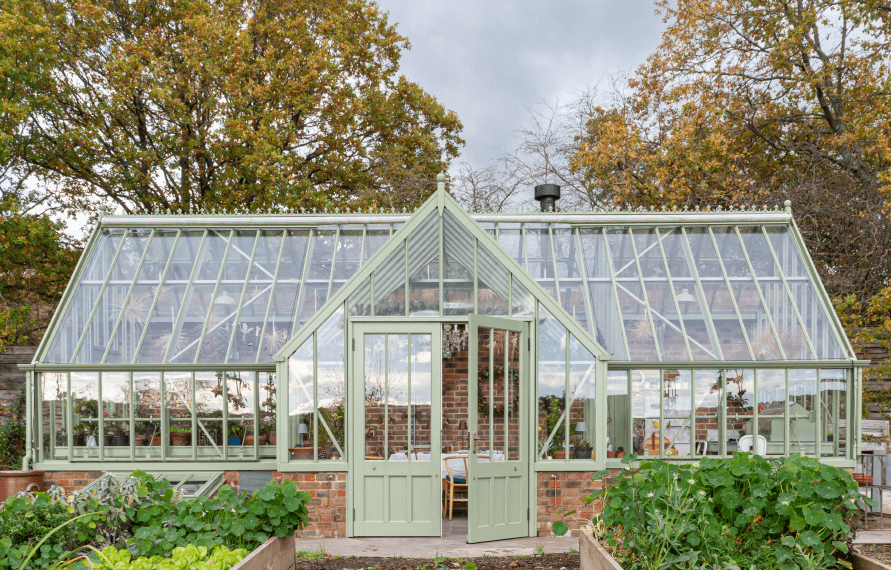 The double lobby extends the internal greenhouse space
---
Our greenhouse is such a joy; it gives us all kinds of opportunities.
---
Suzanne Hillen,
Greenhouse Owner
---
Bespoke Greenhouses
Talk to us about our bespoke design & builds
---