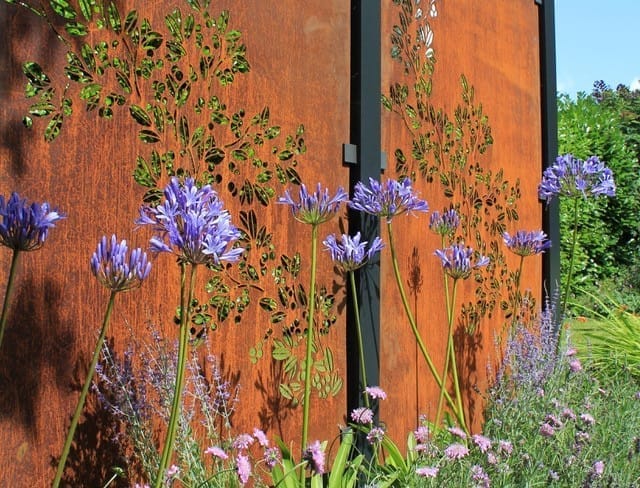 We interviewed Martine Le Gassick and Mat Webb Jenkins, the creators of Stark & Greensmith. We will be working with them for our stand at Chelsea Flower Show 2017. They will provide the stand with some of their beautiful panels to enhance the atmosphere and garden.
Martine: Originating from my grandmothers' maiden names, Stark & Greensmith was chosen both as an ode to them but also as a reminder to me that our brand was to stand for values that my grandparents believed in; only choosing a few quality products in life that would stand the test of time rather than living life in a throw-away, wasteful mind-set. Because of this, I was also so excited to work with Alitex as I felt that our brands share similar values.
Mat: Martine was critically acclaimed with a textile design studio that employed ten designers. We started a family and put things on hold, but then we found the time was right and wanted to bring design back into our lives.
Martine: It was frustrating. As an interior designer for property developments I loved choosing the décor inside the house but when it came to the gardens, I found it very difficult with the limited choice of garden panels in the marketplace.
Why did you choose metals for the panels?
Martine: We wanted to create a product that had longevity and was durable choice over wooden fence panels.
Mat: Our weathered steel panels are made from corten steel; it rusts beautifully but will not rot. Our aluminium panels are sustainable, made from recycled material.
Martine: The panels are also hedgehog friendly with a gap at the bottom as the gateway!
How are the panels made?
Mat: The standard designs are made in China and our bespoke designs are manufactured in the UK and Europe. The designs are laser cut into the panels and if they are aluminium they are powder coated after.
What are your favourite designs?
Martine: I love 'Branches', its design was inspired by my background in textiles and gardens.
Mat: 'Motif'. We also love 'Burst' as it's good if you want to retain some privacy in your garden.
Are you creating any new designs?
Mat: We're looking at a geometric option.
Martine: … and we're in the process of creating some more modular designs.
Are you working on any exciting projects at the moment?
Martine: We're working on a cantilevered pergola for a coy carp pond which is quite unique.
Mat: We also have some large commercial projects on the go with developers.
How do you meet customers and garden designers?
Martine: We launched at the Landscape Show in 2016 where we met lots of designers. We've also exhibited at a show called 'Surface' which is exclusively for architects and interior designers.
Mat: It's quite rare that we deal directly with the customers, it's mainly the designers and specialists. We are working on building a 'family' of registered installers in the UK which we feature on our website.
What designs have been chosen for our stand at Chelsea Flower Show 2017?
Martine: Drift in corten steel, it will enhance the stand and beautifully complement the structures and the variety of plants on the Alitex stand.
You can visit us and Stark & Greensmith at Chelsea where we will be back on Main Avenue, stand 334.