I like Jane Fonda. I like Jane Fonda for a lot of reasons, but chief among them this week, is that she has reminded me of the pleasures of ginger ale. Men (mostly in beards that they will one day see as the facial equivalent of leg warmers) have made ginger beer very cool, but let's not overlook the ale. If you haven't seen Klute, you must. I was watching it on one of these November evenings that has infiltrated early August this year, wondering what might work for a variation of a Dark and Stormy cocktail, when she asked for ginger ale. Bingo.
Each of these cocktails takes something that's thriving in the garden right now to add flourish and flavour to a classic cocktail recipe. Of course, you can use supermarket herbs, but Moroccan mint adds that special vim to the mojito, just-cut lemon thyme that little extra freshness to the nectarines, and so on.
Don't be put off if you are new to making syrups: the technique is simplest, the results fabulous. All you do is dissolve sugar in equal weight of water, allowing it to just-reach a simmer before turning off the heat and adding the herb. Keep tasting as it cools and remove the herb when the strength is as you'd like it. Store in the fridge.
Happy August.
Matt's Gimlet
Traditionally, the gimlet was just gin with a little lime and soda, but among the many variations over the years that balance up the gin a little is Raymond Chandler's from The Long Goodbye: half gin and half Rose's lime cordial. This version eases back on Chandler's too-sweet recipe while embellishing the gin nicely.
Using the handle of a wooden spoon, muddle the quartered lime skin and mint in the base of the glass to release the flavours of both. Add the gin, syrup, lime juice and ice, stir and top with as much (or as little) soda water as you fancy.
60ml gin
30ml lemon verbena syrup
Juice of 1 lime
Soda water to taste
A sprig of lemon verbena and mint
Ice
Light and Stormy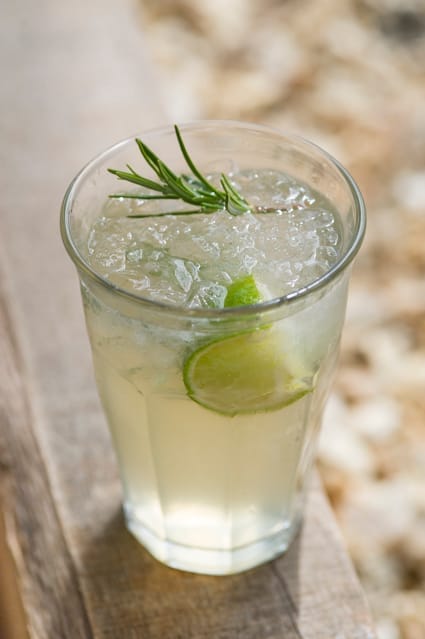 A white rum take on the classic Dark and Stormy which uses dark rum. Ginger beer works equally if differently well, but ginger ale reminds me of childhood Christmases and Jane Fonda reminded me, hence why I use it. This is really good with a syrup made using rosemary, but if you have of can find ginger rosemary, it deepens the ginger flavours beautifully.
Add the rum, syrup and lime juice to a glass, add a handful of ice, then top with ginger ale.
90ml white rum
120ml ginger ale
40ml ginger rosemary syrup
Juice of 1 lime
Sprig of rosemary
Ice
Nectarine, lavender and lemon thyme Bellini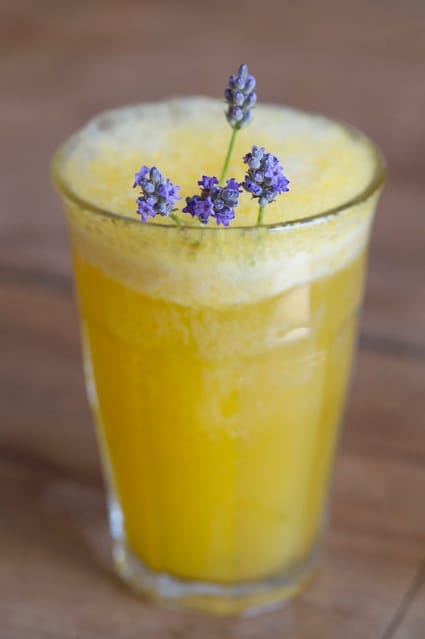 Your classic Bellini has a puree of white peaches and three times as much prosecco, and very fine it is too. This is a gorgeous variation that just sings of summer, and draws life out of even the most unpromising nectarine. Nectarines, lavender and lemon thyme really were meant to be together – try the combination for a fool, crumble or whatever pud takes your fancy. The nectarines can be roasted if the oven is on anyway.
Peel and chop the nectarines, and simmer gently in a pan with just a little water and the herbs. When the fruit has collapsed nicely, puree and cool.
I don't think you can go far wrong with 1-part nectarine puree to 3 parts fizz, but use whichever proportions you favour.
2 nectarines
2 sprigs of lemon thyme
A sprig of lavender
Prosecco
Blackberry mojito
Your classic mojito has just five ingredients – white rum, mint, limes, sugar and soda water: a handful of berries just adds a delicious seasonal depth to the brightness that I love. Blueberries, raspberries and watermelon (especially) make for fine variations on the theme.
Using the handle of a wooden spoon, muddle the berries, sugar, lime skins and mint to release the flavours. Add plenty of crushed ice, followed by the rum, lime juice and finally top with soda water.
60ml white rum
14 ripe blackberries
12 leaves of Moroccan mint
The juice and skin of 2 limes
4 tsp sugar
Soda water to taste
Crushed ice