I have a sunburnt ear. I also have a new garden. Six weeks ago, there was a sea of mud; today, a young but beautiful kitchen garden. It's not often you get to start again from scratch, to windscreen wipe the mistakes and follow new ideas without the compromise of what's gone before. It's been like slipping an old skin.
It is a very different sort of place to the usual kitchen garden. It's an ornamental garden that just happens to be made entirely of delicious plants. Perennials dominate, with lots of intense flavours from plants that look good for most of the year.
Late this afternoon, I weeded a line of society garlic that took long enough for the hard low sun to slip under that hat's brim and frazzle one side of my face. The upside: I got to reward myself with a few flowers from each plant. It was well worth the temporary pork scratching of an ear.
Big flavours pay a huge part in the new garden, especially herbs and spices – the clothes that other foods dress up in. Unlike many annuals, they look wonderful for long periods, and harvesting doesn't remove or demolish the plant. July is perhaps the best month for herbs. Everything is thriving; many are in flower. Alongside the best and most interesting varieties of the usual suspects – Hot and Spicy oregano, ginger rosemary, Jekka's thyme etc – are a few I think ought to be grown more widely.
The now-weeded society garlic looks rather like an elegant chive with rings of exquisite pale pink bell flowers at the tips that are sweet with a garlic flavour that's intense without being harsh. It flowers from April to September, and the more you pick the more it flowers. Scattered through green salad or over baked fish, they really are quite something. Try a couple floating in a martini.
Hyssop looks a little like regal rosemary, with a scent somewhere between rosemary, thyme and sage. It is commonly used in the Middle East as a key ingredient in the spice and herb blend za'atar, typically alongside sesame seeds, salt and sumac. Right now, it is sprouting towers of deep blue flowers, attracting both the eye and beneficial insects.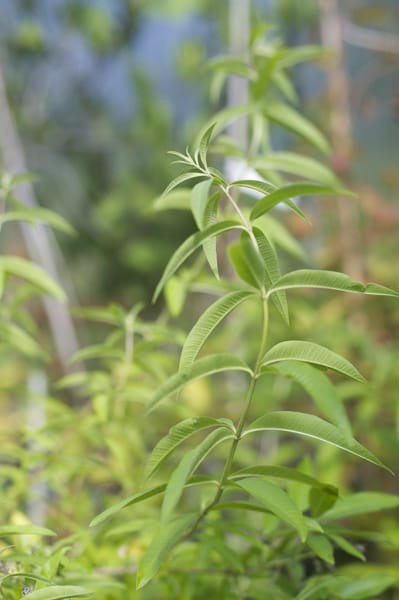 My desert island herb is lemon verbena. Sweet and intense in scent and flavour, the leaves are part of what makes summer for me. I can't pass a plant without rubbing them. The smell is almost fizzy and sherberty. You have to grow it. It takes no effort other than to bring it into the greenhouse before the frosts hit and take it out again when they've passed in spring. I use it to make a syrup for cocktails and desserts, and in combination with mint, it makes for a fabulous tea.
Anise hyssop is very different to its woody namesake hyssop. Tall, quite nettle-like in shape, the leaves carry a sweet scent and flavour somewhere between mint and aniseed.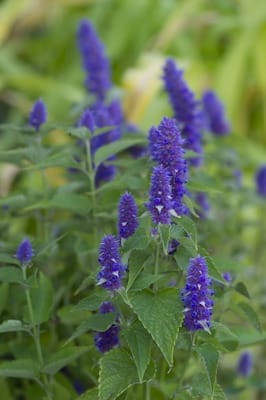 Sliced finely and mixed in with a leafy salad or even with peaches and apricots, it is quite something. The flowers are magnificent: tall, blue-purple mini bottle brushes that the bees are besotted with. Anise hyssop is a perennial that dies back through winter, emerging in spring. It will self-seed a little too, though this is easily avoidable if you fancy by removing the flower heads as they start to go over.
If an annual wants a place in the garden, it has a better chance if it readily self-sows: shiso (aka perilla), which does exactly that, has made it over the drawbridge. It comes in two varieties – one green like an unripe lemon, the other deep brown-purple. Both taste of cumin with a hint of mint. Tempura battered and deep-fried, it is extraordinary. I sow it thickly, thinning out the delicious seedlings as microleaves (when 5cm or so tall), allowing the rest to grow tall. Once they are on their way, I sow a tray in the greenhouse every few weeks to pick as micros too – just a few punctuate a leafy salad perfectly, and are as addictive as the society garlic flowers as garden snacks.
There are more, so many more, herbs beyond the familiar ones, but try these and you'll not be disappointed.