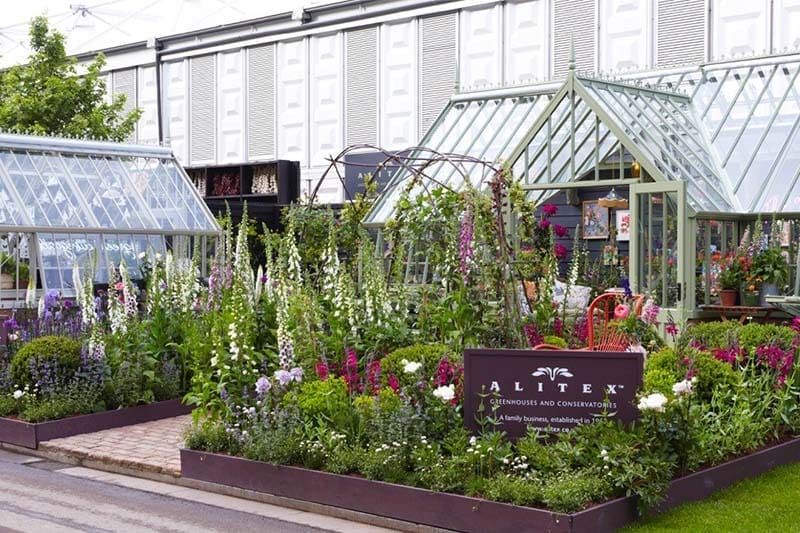 It's here! The long-anticipated return of RHS Chelsea Flower Show, occurring on September 21-26. Traditionally held at the start of the growing season in May, we will use this Autumnal show to demonstrate the opportunity to enjoy your garden all year round.
We shall join forces with industry friends to bring our vision to life on our stand (MA334), promoting the circular economy and showcasing how everyone can achieve a beautiful growing space even when we reduce, reuse and recycle.
The Alitex garden will feature two greenhouses from our collection with The National Trust; The Scotney and the largest structure from the range, The Ickworth.  
Our Scotney greenhouse will be powder-coated in the subtle green hue of Wood Sage, demonstrating the possibilities for growing your own, using the expertise of Julia Parker of Parker's Patch.  With absolutely no plastic used within the greenhouse, Julia will demonstrate how to make newspaper pots for seedlings and even a birdhouse using a Gourd. There will also be a focus on edible flowers and 'grown not flown' fruit and vegetables, with pineapples grown from cuttings.
The Ickworth will provide a contrast, powder-coated in black and creating a striking backdrop for the vibrant planting designed by Jake Curley, that the season affords. Inside the Ickworth will be much more than a greenhouse – expertly styled by Selina Lake, a comfy and cosy sanctuary awaits for those late summer evenings. The greenhouse will also feature a wood burner and plush armchairs.
Most of the stand's furniture and accessories have been carefully chosen from Lamb & Newt, a lifestyle brand based just a stones throw away from our show site, Torberry Farm. Lamb & Newt's re-loved objects from the past will enhance the sustainable credentials of our stand.
With a different season for us to explore, September brings a new range of possibilities. We cannot wait to be back as we move towards relative normality after a very unusual 18 months.
If you are attending the show, come and visit us on our stand MA334