Alitex provide a selection of solid robust aluminium benching solutions to maximise the growing space in your greenhouse.
Alitex traditional benching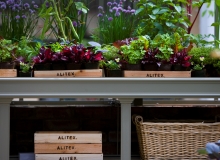 Designed to maintain the traditional feel of the greenhouse, this solid, waist-height bench combines strength and flexibility with an elegant look. The attractive framework is manufactured using heavy cast aluminium legs and extruded aluminium sides, which are powder coated in black as standard. You can choose colour co-ordinated benching. The deep sides allow the bench to be filled with gravel, sand or other moisture-retaining material, such as Hydroleca.
To fully utilise the space within the glasshouse, we have manufactured a strong and durable lower shelf to fit beneath the bench. A moulded aluminium extrusion supports the shelf, which is nominally 350mm above finished floor level and 315mm (12") wide, and is finished with solid timber slats. This allows, where necessary, heating pipes to be mounted on the dwarf walls without interference where necessary. The shelf is fitted to the maximum area possible although its size is ultimately governed by the configuration of the bench.
MallEry tiered display bench
This greenhouse display bench is comprised of three, well-spaced, strong shelves, supported on long, elegant legs; creating a stunning plant display in the greenhouse.
These benches can be used in prominent positions in order to show off your plants to best effect and also to enable areas with lower light levels at the back of a greenhouse to be fully utilised.
Phillips high level shelving
Manufactured from a moulded aluminium extrusion, this high-level shelf offers storage space for seed trays and small pot plants. It can be fitted to the roof bars or vertical bars on the gable end. They can (in the case of lean-to greenhouses) be fitted to the rear wall, and can dramatically increase the capacity of the glasshouse - useful during peak season. The shelf brackets and side rails can also be powder coated to colour match your greenhouse.
Propagation/misting bench
This dedicated area of the bench is designed for the germination and protection of small seeds and hardwood strikes. Incorporating a temperature controlled heated foil mat, combined with misting risers, it creates a humid and warm environment ideal for the successful germination of seedlings.
The bench is designed to your requirements with deep sides to allow for a generous sand bed for your seeds and cuttings.
Hydroleca
These are expanded clay pellets that were originally used to insulate stove flues as they would fill odd shaped spaces very effectively. We have found that they also retain moisture very well, which helps to create humidity around your plants. It is also very light and easy to handle. We recommend changing it every 3 years and you can use your old Hydroleca as the drainage material in the bottom of pots and containers.