This is the ultimate choice when you have a blank canvas, and either want to tuck the greenhouse into a corner or make it a focal point in your garden.
For those with flexible garden landscapes that are not limited by space or other garden structures, a freestanding greenhouse allows for the perfect orientation and position to suit your individual growing needs.
The customisable options for our freestanding greenhouses open up numerous design possibilities. The number of customisable features and finishes allow for a truly unique growing space specific to your requirements.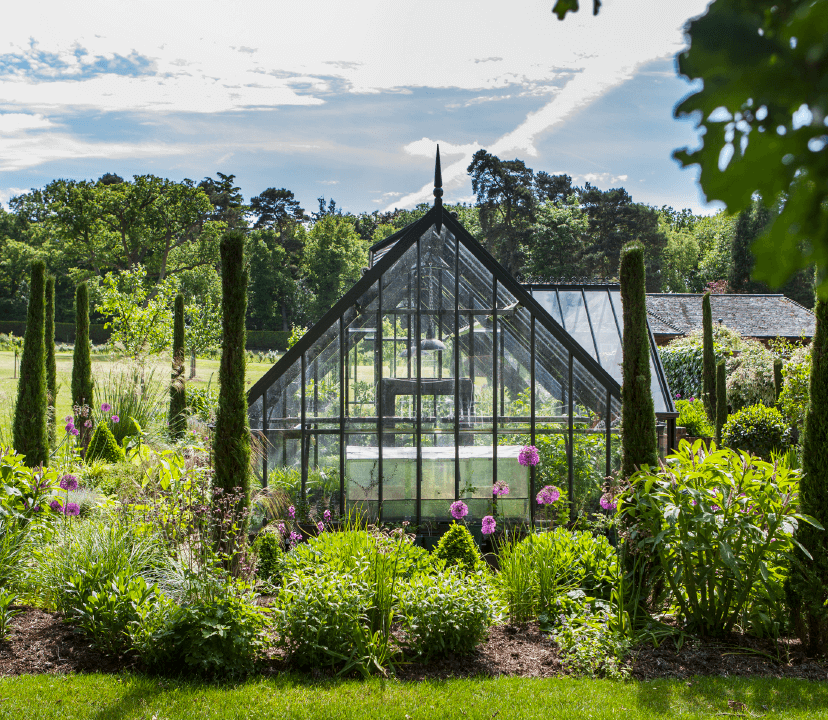 The roof pitch of your freestanding greenhouse
Typically, the roof pitch of a standard greenhouse is 45 degrees, this produces the classic Victorian look that we faithfully replicate, also allowing for optimum ventilation. Whilst 45 degrees is the general angle you will see on our structures, we can alter roof pitches to achieve your ideal greenhouse. A 30-degree pitch can give a more contemporary look and suit some settings better, and a Peach House will have a very steep pitch. Book a visit to discuss your specific requirements with one of our sales designers.
Greenhouse ventilation
Ventilation is an integral part of growing under glass and enables you to create the optimal growing environment, allowing your plants to thrive.
Our combination of roof and side vents creates a natural 'chimney effect' inside the structure encouraging air circulation throughout. The number of opening vents is taken into consideration during the design stage of the greenhouse and specified individually on each project to provide the best ventilation. On larger structures, vent depth can be increased accordingly and electric motors added for precision control.
Building works for your greenhouse
The building works for your greenhouse are just as important as the aluminium structure itself, requiring a high level of accuracy. Our greenhouses sit on a double-skin dwarf wall which sits on top of a strip foundation. Find out more about building works for your greenhouse project.
---
Can't see what you're after?
Talk to us about our bespoke design & builds
---