If you are looking for a bespoke greenhouse and would like to create a unique central focal point for your garden, a Hexagonal greenhouse or an Octagonal greenhouse could be a great choice. With its roots firmly in the 19th century, these shapes can be seen in Botanic Gardens around the world, and create a central height that's perfect for display and impact.
This shape also makes a striking central feature lobby on a more simple lean-to greenhouse or freestanding greenhouse.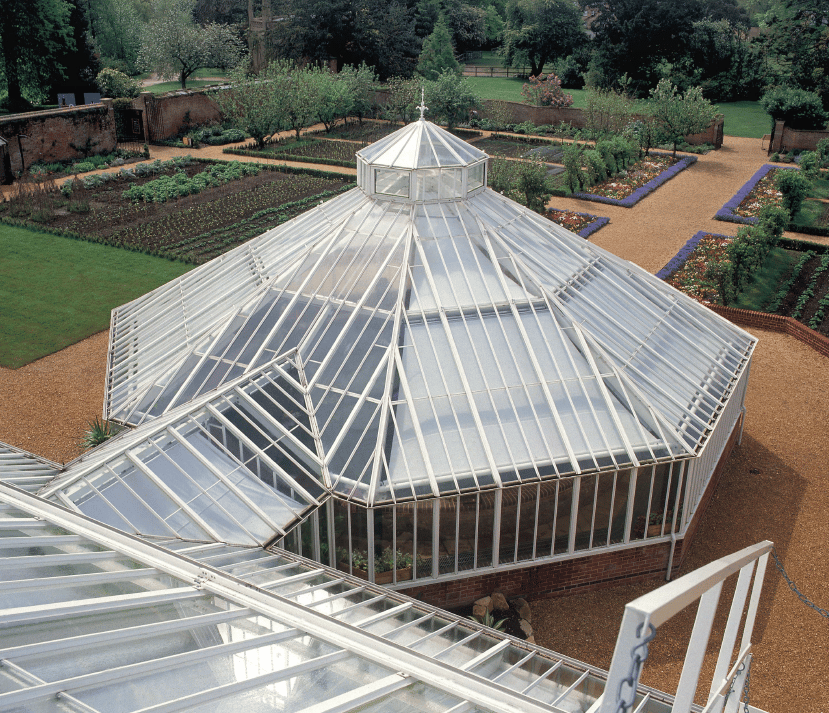 Why choose a Hexagonal or Octagonal greenhouse?
Hexagonal greenhouses and Octagonal greenhouses are unique, heavy-duty, standout structures built to withstand all weather conditions. Installed as a free-standing greenhouse or as a feature lobby they can transform your garden and look great all year round.
Like all of our bespoke greenhouses, you can choose from our Traditional or Messenger glazing system for your structure. You can also choose to have the structure powder coated in a colour of your choice.
Every element of these more intricate and complex designs are considered, from structural integrity, durability and quality to achieve a completely bespoke greenhouse that suits your individual needs.
With different shapes, we can also commission and manufacture accessories such as benching and floor grids to fit in with the structure, ensuring that you can make the best use of the space. Create a fully functioning growing space with bespoke benching and shelving for your Octagonal or Hexagonal greenhouse. Discover more about our accessories for your Alitex greenhouse.
---
Can't see what you're after?
Talk to us about our bespoke design & builds
---