Alitex are delighted to be working in partnership with the world renowned Royal Botanic Gardens, Kew.
Our partnership goes beyond our mutual knowledge and experience of horticulture; it is a sharing of values and principles. Kew's ethos is governed around the principle that 'plants matter' - be it for health, for pleasure, for beauty or for life, making plants matter is the focus of everything they do. It was a natural progression to combine our shared passion for plants, from propagation to protection, by designing the finest possible growing environment in each of our greenhouses.
In the early 2000s at The Professional Gardeners Guild conference, Tom Hall, owner of Alitex, was invited to talk about our
Messenger greenhouse
, which caught the attention of Greg Redwood, Head of Great Glasshouses at Kew (pictured). Greg's interest in the Alitex product sparked a genuine relationship which has grown into the partnership we have today.
It is worth mentioning that Greg Redwood is a die-hard timber greenhouse fan that was won over by the fact that an aluminium Alitex greenhouse, especially the Messenger design, emulates the wood look so expertly without any of the drawbacks.
As the relationship between Alitex and the Royal Botanic Gardens, Kew flourished, more people from both organisations formed reciprocal friendships. Tom established an annual summer tour of large private estates with an Alitex greenhouse for Kew final year horticultural students. Alitex eventually sponsored the annual Kew diploma students "Growing under Glass" award. 
The making of a partnership
The Royal Botanic Gardens, Kew were looking more keenly at their industry partnerships and analysing them for more than commercial gain. What they wanted was to be associated with like-minded companies. This desired association resulted in Royal Botanic Gardens, Kew endorsing Alitex greenhouses, giving us their stamp of approval.
A partnership for now and the future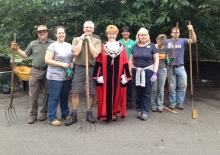 Our aim is to provide a fulfilling and satisfying growing experience in the most beautiful greenhouse. In terms of a robust research and development programme, our team are able to work with the worldwide horticultural authority 'Royal Botanic Gardens, Kew'. This collaboration ensures that we can continue to deliver the very
best growing experience
.
Alitex's involvement with the Kew diploma students ensures we stay at the forefront of new thinking and there is an expectation that sustainability will continue to be a central theme. At Alitex, we look to incorporate these key themes in the way we think, design, manufacture and produce greenhouses. 
Our collaboration with Royal Botanic Gardens, Kew, means that the Alitex greenhouse journey will continue to evolve.