We are now looking at day two of British Flowers Week 2015, which is now in it's third year; but what is this event and what exactly are we celebrating?
This nationwide campaign was founded by New Covent Garden Flower Market back in 2013, their aim was to promote British flowers & foliage and the UK cut flower industry; they wanted to spark public and media interest in where our flowers come from and really show off our British produce.
Just like our interest in locally sourced food, we should be showing the same loyalty when seeking cut flowers; British Flowers Week aim is 'to bring cut flowers back!' Florists, flower farms and wholesalers across the UK will be showing us what their made of by showcasing their beautiful produce; check with your local florist and find out how they are celebrating this ground breaking campaign.
Day One
Day one of the campaign saw the work of florist Zita Elza of Kew, who used British Larkspur to create a stunning haute couture gown named "Shadows", an artists garden in a vase and an elegant bouquet named "Simply Larkspur".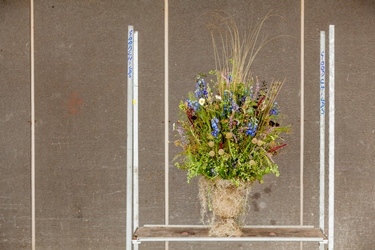 For more information visit the dedicated website www.britishflowersweek.com, which features a programme of flowers farm open days, workshops, talks, demonstrations, pop-up stalls, window displays and limited edition flower bouquets.
You can download The British Flowers Chart for free, which allows you to see which flowers and flowering foliage are available at this time of year; click here to find out more.
To follow the campaign, visit our Twitter @Alitex and keep an eye on #BritishFlowersWeek.