10 August 2015 By Matthew Haddon
Time is the fundamental agent of change within a garden, as well as being a precious resource for the gardener.
If we're lucky then the sun might shine again and the focus of your time in the greenhouse, when not simply sitting back and enjoying the fruits of your labours, will be using water - damping down the flooring to help maintain humidity, keeping the tomatoes watered, or moving pots to shallow trays if you're away for a few days. You will be living in the now, rather than thinking about how your garden will look next year.
However when strolling around your garden, on dry August days, don't miss the opportunity to collect any ripened seeds so that you can increase your plant stock for free! Not only does this protect you against occasional winter losses of your favourite plants and allow you to quickly plug any gaps that develop, but from an aesthetic perspective, larger planting groups will look more natural in your garden rather than looking like a museum exhibit of lonely specimens.
Many plants can be grown easily from seed (for most it is literally the most natural thing in the world.) I have grown Echinacea, Helenium, Echinops, Lupin or Verbena bonariensis in the last few years for example.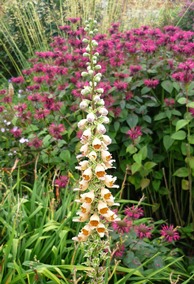 Once you have harvested the dry seed-heads keep them in separate plastic bags until you can sort through them. You can then extract the seed, by crushing the seed-heads between your fingers and gently blowing away the chaff (which is lighter than the seeds).
Store the seeds in labelled paper bags or little envelopes until the spring - when you once again have time to dedicate to planting plants and seeding seeds. If you have an understanding family then the fridge is a good place to store your seeds, otherwise a dry and frost-free shed or greenhouse should be fine.
Bear in mind that some seeds won't germinate if you wait until spring before planting them - Hellebores, Poppies and many grasses should be planted soon after you collect the seed and Aconitum and Euphorbia should be planted in the autumn, for example.
Many plants will come true from seed and for those that don't they may produce a unique, garden-worthy form, if you're lucky you might catch the plant breeding bug which will probably mean that you'll need a larger greenhouse!
Happy gardening.
Matt Haddon is a Garden Designer based in Yorkshire.