30 July 2013 By Sarah Wain
Long sunny days test the mettle of a glasshouse gardener as watering becomes the task du jour and pests become the enemy within.
As I walk briskly from house to house I turn leaves over, looking mostly for two spotted mite and mealy bug but hoorah! the biological control agents I have been using are doing their stuff. It's just the white fly which unusually are causing concern; in one of the glasshouses I will be resorting to the vacuum cleaner to try and reduce the numbers of whitefly adults- I'm 'sure' it'll work! 
I should have known that this pest was going to multiply in the damp conditions of this particular over crowded glasshouse. It's my generous nature - I've just crammed too many plants into too small a space - recognize the problem? Really I should ditch the plants and not pretend that I will resolve the situation as it now stands. However a good vacuum, a spray with SB plant invigorator and then  a batch of parasitising Encasia formosa  (which comes on cards) that hatch out then make a beeline for the eggs of whitefly, prey on them and voilà no more whitefly- at least that's the theory. Using biological agents to control glasshouse pests has come a long way since the days of thirty years ago, when I used to cut up bean leaves and pin parts of them onto plants to spread predators around crops.
Odd things make me happy as a gardener;
Peach foliage without red spider mite infestation. Even this year I can happily report that so far most (not all) of the trees are clean thanks to biological control.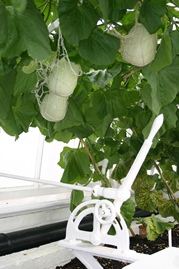 Ripening melons in their dear little nets - and with clean foliage. To be able to get a whole glasshouse full of ripening
melons is quite a challenge. These are small triumphs but you need them because sometimes it feels like war trying to control pests and diseases under glass.
It's August so I must, I have to write about chillies. West Dean Chilli Fiesta time is upon us 9-11th August  to be precise.
If you haven't assailed your senses in this particular way before then perhaps it's time you did as it's a unique and not to be missed sensation. Should the seasonal weather hold its going to be 'blistering' as the younger folk say (get me, I sound like the oldest of old fogies) but honestly it's a great experience so do come along- check out our website for details www.westdean.org.uk.
On another chilli note the vegetable judging panel of the RHS arrived recently at West Dean to look at an external trial of chillies grown at West Dean. This selection of chillies was of those that would be suitable for small pots( about  1½ L) and small spaces( windowsills and glasshouse benches) and there were thirty-six entries in the trial. Fiifteen were deemed worthy of an AGM (award of garden merit) which makes them garden worthy plants. The glasshouse where they're growing looks very colourful indeed, so do come and have a look if you are passing by.
I've just started to Tweet which makes me sound like a bird but makes me feel very twenty-first century, although I'm still at the stage of nodding vigorously at any advice given as if I really understand it (but in fact I don't). If you want to follow my lamentable progress I'm @sarahwestdean. The reason I'm joining the tribe is to spread the West Dean word to a wider audience - a bit like blogging for Alitex.