We are enormously proud of our partnership with Royal Botanic Gardens, Kew and it's always a pleasure to be invited up there. May is a fantastic time to visit with the beautiful colours of Spring lighting up every corner. Take a look at what's going on in the world-famous London gardens.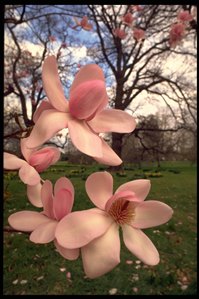 The purple crocus carpet is in bloom along with the beautiful cherry blossoms that can be found in front of the renowned palm house as well as a colourful and eye catching display of tulips. The powerful smell of wild garlic is apparant and bluebells are peppered around every corner. Keep an eye out for the blue and mauve Lithodora Zahini, pink magnolia flowers and the pink/orange flowers of the Aphelandra Sinclairiana.
A visit to Kew is not complete without seeing the oldest trees in the gardens. The Old Lions are a pair of male and female trees, dating back to 1762; whilst you're there, make sure you get some photos of the beautiful lilac Wisteria. If you were a fan of the TV show with Raymond Blanc and Kate Humble, you can also visit the 'Kew on a Plate' garden until the 22nd May; tours are also available.  
Victorian artist and intrepid traveller, Marianne North, travelled 17 countries and painted nearly 1000 species of plants; many of them barely known to botanists and horticulturalists; a courageous achievement for a woman of that era.  In 1882 Marianne donated 832 paintings to the gallery at Kew which she paid for herself. The gallery should be a must on your 'to-do-at-Kew' list.
What's on
There are always exciting events and celebrations happening at Kew Gardens. Here are a few of our favourites to put in your diary:
This festival, celebrating the wonderful world of spices, will run from 23rd May to the 6th September and is bursting with taste, smell and colour.

Kew's Heritage Trees – Exhibition:
This stunning art exhibition by Masumi Yamanaka is being showcased in the Shirley Sherwood gallery until the 9th August. The paintings are exact replicas of the enchanting trees at Kew Gardens.
With performances from the likes of UB40 and Paloma Faith and the beautiful surroundings of Kew, these concerts are not to be missed and will run from 7th – 12th July.
For more information visit their website or keep up to date on our relationship with them on our Twitter @Alitex.