07 September 2015 By Lucy Wheeler
September is here and the feeling of Autumn has certainly made its presence felt already. Rolling mists, dewy grass and cobwebs in every corner, hint at the colder, darker days to come. September can also offer an abundance of golden warmth and with it, the chance to forage and capture nature's bounty for the winter months ahead.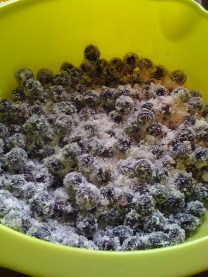 Whilst blackberries are easy to find, and the more obvious foraging choice, one of the more elusive berries is the sloe. If you know where sloes grow, don't disclose the location to just anyone as they get picked pretty quickly. The birds rather like them too!
Picking sloes in September will mean you beat others to it. They're usually only ready after the first frost but you pop them in the freezer overnight to 'pop', you can replicate a sharp frost and the sloes will be ready for use! 
This sloe gin recipe requires planning, time and patience; make this now and it will be perfect for the following Christmas as a warming festive tipple to enjoy as it comes or with Prosecco!
Ingredients
450g sloes
225g white caster sugar
1 litre bottle of gin (don't worry about splashing out on the best)
Method
Wash the sloes well
Put them in a sandwich bag and then into the freezer overnight to replicate a frost and allow them to 'pop'.
Sterilise your glass bottles for storing the gin by using hot, soapy water. Allow to dry and be careful not to put your fingers inside the bottle after this. You'll want bottles with a fairly wide neck to get the sloes in and out of easily.
Mix the sugar and sloes together in a bowl then place them in your bottle. If you're using more than one bottle, make sure you get the right ratio for all your ingredients.
Add the gin and shake well.
Store in a cool, dark place and for the first few weeks, shake the bottle every other day.
Then shake once a week for two months.
Then strain through a muslin cloth, discarding the sloes.
Keep the gin stored in a dark place. We recommend leaving it to deepen and mature for another year but, if you just can't wait, it will be ready to enjoy this Christmas. Cheers!
To keep up to date with our recipes, take a look at our Pinterest board here. Have you been cooking up a storm in your kitchen this month? We would love to hear your own recipes; let us know below or email sam.duke@alitex.co.uk.