At an event hosted by Alitex and Lime Wood Hotel, Garden Designer and TV personality Ann-Marie Powell gave us an insight into what to expect at this year's RHS Chelsea Flower Show.
Along with a strong message of 'sanctuary' and a key 'nostalgic' theme , especially in the Artisan category, there is also going to be a strong global influence. The famous 'main Avenue' will see gardens from; Singapore, Australia, Emirates and Cornwall, all built to some of the most challenging briefs we've ever seen.
Nostalgia
Tipped for a 'best in the Artisan category' prize, 'A Trugmaker's Garden' by Serena Freemantle and Tina Vallis celebrates the skills of the Sussex trugmaker. This space will have a workshop made from reclaimed oak, with piles of authentic wood shavings dotted around; the planting will be joyful and attractive to represent a traditional workshop. "The Artisan Gardens are always worth a visit away from the hustle and bustle" Anne-Marie enthused. Japanese designer, Ishihara Kazuyuki's 'Edo' garden will be shown there; a marvellous display that celebrates a Japanese gardening boom, 400 years old. If you are after a little British nostalgia, 'The Sculptors' Picnic Garden' by Graham Brodie and Walkers Nurseries in the Artisan category will be bursting with conifers, not seen at Chelsea for many years.
Water Displays
Expect to see some elaborate water features including Chelsea first-timer, Charlie Albone's show garden 'The time in between'. This touching garden is inspired by Charlie's father and the time they spent together; it will showcase an impressive dissipating pool. There are also 17 pillars on the plan that represent important people in Charlie's life, although 18 on the initial press release, a possible falling out? A must-see garden at the show. The 'Water Station' garden by Slovenian designer Borut Benedejcic is another work of horticultural art with an elaborate, traditional Slovenian well, creating a stand that is about everyday life for Borut in his native country.
Challenging
Matthew Wilson's show garden for Royal Bank of Canada will showcase something a little different, with extraordinary plants such as a Macro Bonsai Olive, Pomegranate Tree and a Pineapple Guava hedge. The Landscape Associates 'Dark Matter Garden' for National Schools' Observatory is also a must see. Designed by Howard Miller Design Ltd, this scientific design brings the mysteries of the universe to Chelsea, with planting that represents the dark matter of light; certainly a fresh garden to watch. Ann-Marie is enjoying the increase in horticultural works of art this year, "I'm delighted that the RHS are encouraging the art, science and practice of horticulture in all it's forms."
Sanctuary
A trend that is key on our own Alitex stand is calm and well-being, which  many others are also favouring. For a more feminine touch, Jo Thompson's M&G garden is one to visit. Peppered with gorgeous roses and irises', there will also be a natural dipping pool where you might bump into Ann-Marie, sporting a retro costume and swimming hat! The Brewin Dolphin garden, designed by newbie Darren Hawkes, is also aiming to create an oasis; expect floating platforms and a trickling stream, along with 40,000 pieces of phenomenal hand-cut slate.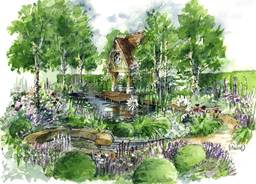 "It is easy for us to be picky, but each garden has a story, a narrative which is what we should think about." Ann-Marie commented. Each designer is trying to nail a brief as accurately as possible, this is what they will be judged on, as Ann-Marie put it "designers are competing with themselves, no one else." A final tip from Ann-Marie, "make sure you have a look in the bushes, you may well find your favourite designer having a snooze!"
We will be at Chelsea so don't forget to visit us on stand MA10; our fridge will be well stocked and full of fizz. Keep up to date with the latest Chelsea news on our Twitter @Alitex, or follow our Green Room.