04 February 2015 By Matthew Haddon
Although garden fashions remain relatively stable (despite the media always seeking to excite us with a new this or that), it is possible to spot the rise and fall of particular elements around the edges of our gardens.
One that is currently seeing a small resurgence is the use of shrubs. For years shrubs have been dismissed as old fashioned and cumbersome (with the exception of favourites such as Buddleja for butterflies and Lavender for bees) and so most now only exist around the perimeter, where they are retained to 'fill a gap'.
I think that many people fear shrubs for this reason - they have been left unloved for so long. They now represent an overgrown, leggy mass - unpruned and having outgrown their allotted space; probably planted where they shouldn't have been. This, combined with magazines full of swathes of perennial planting and grasses, means that they are no longer admired as they once were.
This is a real shame. Shrubs have a lot more to offer than simple space fillers, although their ability to create a coherent framework in a garden is often key to a successful design; offering both 3D form and covering the ground. Importantly they are lower maintenance than almost all other forms of planting and if purchased when small they can offer years of cost-effective, trouble-free interest.
Evergreen shrubs will provide structure and form even through the long winter months. Others, may be chosen for their flowers and scent and will sparkle in a remote corner or hold their own centre stage. All can also be pruned not only to control their growth, but with a little creative expression could create a geometric topiary focal point (a ball, a cone, a pyramid or a column), a Japanese inspired cloud-pruned hedge or specimen plant, even (if appropriate) a traditional privet cockerel!
So if this year you want to have more time in the greenhouse to pot on your food crops or coddle temperamental horticultural gems, then you might make space for a few more shrubs amongst your borders; but what should you choose?
You might combine yew columns (Taxus baccata) with Sarcococca for year round interest like these seen at Wisley.
Other evergreens to consider are Ilex crenata (a good alternative to Buxus balls as they are not susceptible to box blight), doming Viburnum davidii or perhaps Photinia 'Red Robin' or Berberis thunbergii 'Atropurpurea' for a zing of red throughout the year?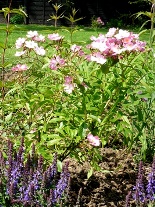 Rosa 'Ballerina' puts on a long show with multi-toned pink flowers, whilst the large panicles of cultivars of Hydrangea paniculata makes a real statement and Philadelphus 'Belle Etoille' provides wonderful scent in early summer.
Interesting flowers, berries and foliage could also be provided by Viburnum opulus 'Roseum', Sambucus nigraf. porphyrophylla 'Eva' or Callicarpa 'Confusion' (with its outstanding purple berries).
The choice, if not endless, is certainly more expansive than you may imagine.
Happy gardening.
Matt Haddon is a Garden Designer based in Yorkshire.