06 October 2015 By Sam Duke
Once a year, our MD Tom arranges a day out for everyone at Alitex. It's always left a surprise until the very last minute, leaving everyone guessing and it has always been a great team building opportunity that we look forward to. This year was no different and on a sunny October morning, we headed off to Wokefield Park in Reading.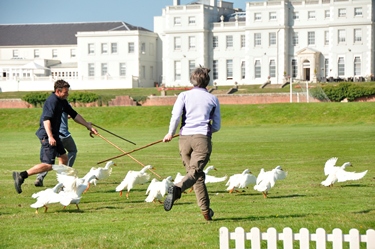 Upon arrival, we anxiously circled the whiteboard that contained cryptic clues towards the activities that lay ahead – 'panto practice' and 'double trapeze' made a few tummies turn! After hearing that we had to pick 6 of the 12 tasks (ranging from slightly physical to physical and high,) we began to fill in our initials on the most favoured activities.
The most popular task at first, probably because it was 9am, was the duck herding; an easy start to ease us in to the day, a slight shock to the system when we found out that we were going to be running around after a gaggle of geese (with a little help from some excitable collies.) Whilst sales director John struggled with the whistle, Neil from the installation team was herding ducks like a professional.
The adrenaline junkies were certainly catered for; the super fan consisted of a 45ft high platform which people had to jump off, using their body weight to slow them down as they fall – not for the faint hearted, whilst the double trapeze required people to pair up and swing across the tree-tops.
Woodland lasers got competitive, complete with camouflage jumpsuits and some interesting sound effects, the teams were given laser guns and asked to work together to retrieve a piece of the 'French Gambling Cube.' Whilst Brenda, Jess, Lucy and Adam came out war heroes, Sam went for the more cowardly strategy and hid behind a tree throughout the whole shooting match.
A fantastic day was finished off with the panto practice (which had been filmed) being shown to the rest of the team – a special mention to Mark Crewe from the factory, who's Oscar winning performance landed him many laughs and a huge round of applause. A wonderful day; many thanks to the team at Wokefield Park and to Tom for organising a fun Friday outing.
Keep up to date with Alitex by following us on Facebook and Twitter @Alitex; you can also see more images from the day on our Instagram page by clicking here.