04 March 2015 By Sam Duke
At Alitex, we acknowledge the impact our area of work could have on the environment and we constantly seek ways in which we can minimise and control this; that's why, three years ago, we made the decision to invest in a more efficient oven for our paint line. Now, the results are in.
It wasn't a hasty decision but one that we carefully planned for nearly 11 years, acquiring justification work from an outside contractor. The aim was not only to have a greener way of working, we also wanted to improve the speed of the track and increase the uplift by 10%; meaning we would send more parts through our paint line. 
James Glue, Alitex production & processing engineer said "We just wanted to make sure we could handle the 10% uplift, as well as build a little contingency if we required more throughput." However when the report of last years usage came in, James and the team were more than pleasantly surprised.
In 2012 the team increased the parts that went through by 16% and since then this number has risen each year; however it was the figures from the 2013-2014 readings that we found most pleasing. Not only had the total value of jobs that went through the paint line increased by 37%, we had also decreased the cost of gas per litre from 66p to 36p, an incredible drop of 45%!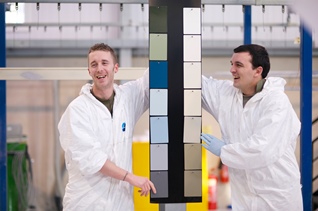 James added, "We were confident that our figures were going to be correct and that our new oven & track would work, but we also thought we would have to use a lot more gas to achieve these results."
The input from the pre-treatment and paint line team has also helped towards reaching these fantastic numbers. It seems that the hours could be used more efficiently, with new procedures and more staff involvement. Kenny, paint line team leader said "we used to deal with many maintenance issues that would slow us down, now, with the new oven, we are working faster and producing smoother looking parts that are finished to a higher quality."
The greener benefits
It was important to us that this project fitted in with our sustainability practices and we were absolutely delighted to discover that in installing our new oven we decreased the litres of gas we used by 8%, meaning the litres of gas we had delivered to our factory dropped by 16%. Pre-2012, when our old oven was in use, we had to turn it on in the morning and leave it on for most the day; now we can switch it on 30 minutes before use and straight off when the job is done.
If you would like to speak to the team or maybe see our oven in action, join us for a factory tour; email sam.duke@alitex.co.uk or give us a call on 01730 826 900.