17 March 2015 By Sam Duke
The countdown to RHS Chelsea Flower Show has entered the two month zone and not only are we busy growing a crop for our kitchen garden display, we are also preparing a second greenhouse.
As well as a large bespoke, mono-pitch, lean-to greenhouse in Green Sand, we are also showcasing a Scotney from our National Trust collection and we are very excited to announce that Clifton Nurseries will be styling the interior. We invited Clifton's Wendy Bowen and their stylist Bernie Marti over for some tea, a catch up and a walk around our show site to get a feel for what an Alitex structure is like.
Our brief for the Chelsea stand was quite open; contemporary, needs to be a talking point... go wild! It's important to us that our stand is a showstopper and offers our guests an experience that stays with them. Looking at some previous projects from Clifton, like their recent daffodil display for Penhaligon's new fragrance, and after hearing a few of the ideas that flew about in our Mottisfont, we can't wait to hear what Bernie and the team come up with.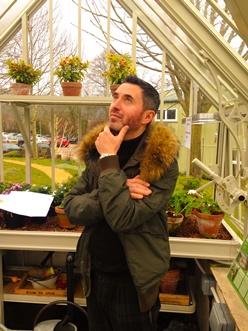 Clifton is a stylish garden design, construction, maintenance and planting company based in trendy 'Little Venice', West London. Their MD, horticulturalist Matthew Wilson, is known for his work on Channel 4's Landscape Man as well as BBC Radio 4's Gardeners Question Time and is also planning a stunning garden for Royal Bank of Canada (RBC) at RHS Chelsea.
The RBC have had a commitment to water conservation and protection for many years and have also previously exhibited at Chelsea, this year it's the turn of Matthew Wilson to design their space. Matthew has stated that he wants visitors to explore the simple truism that water equals life; he wants people to realise that they can make small changes to their garden that will help towards the cause. His inspiration for the stand has come from a Mediterranean garden with three main parts; a central harvesting and storage zone, a zero irrigation 'dry garden' and an edible garden. All of the plants and landscape materials are going to work together to improve water efficiency throughout the garden and all of the plants will have the ability to withstand drought conditions, including a beautiful macro bonsai olive tree, a first for RHS Chelsea - we can't wait to see it!
Matthew Wilson will be speaker at our Alitex lecture on the 10th September here at Torberry Farm, tickets are £10 and can be booked by emailing enquiries@alitex.co.uk or you can call us on 01730 826 900.