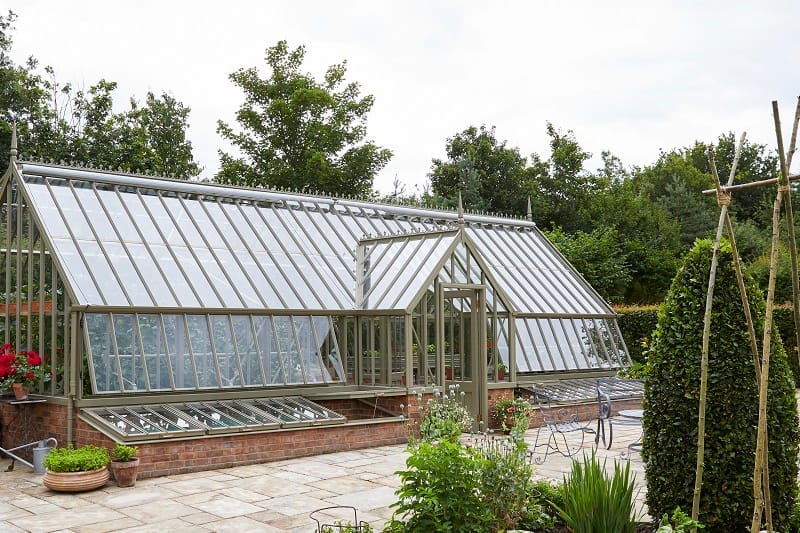 What is the greenhouse market like in Germany?
Greenhouses of all makes have been finding their way into German gardens for a long time, but not to the extent you would find in England. It is owing to the continental climate that tender plants need an adequate overwintering place and if you want to start early in the season a greenhouse is essential.
Well-designed greenhouses function both as a horticultural space as well as a garden room to potter, and last but not least, a focal point in the overall garden design.
An oasis for plants and gardeners alike.
What are people interested in growing?
Our customers are mostly using their greenhouse for propagation and growing vegetables like tomatoes, cucumbers, fruits, summer flowers and some tropical plants and crops.German winters are (usually) harsh therefore tender plants like citrus trees, olive trees or palm trees need a warm overwintering home protected from snow and icy temperatures.
Have you worked on any particularly large and interesting projects?
We installed a greenhouse some years ago at Schloss Dyck, a moated castle in the Rhineland region of Germany. Alongside the castle is an English Garden of 50 hectares. At the beginning of the 19th century Prince zu Salm-Reifferscheidt-Dyck had the space planted by the British botanist and gardener, Thomas Blaikie.
This past season fulfilled a long-cherished wish of the Dyck Castle that was proposed: A huge vegetable garden with an Alitex greenhouse right at the heart of it.
The concept 'from garden to plate' has been, according to the Head Gardener, one of the favourite aspects among visitors who can find the vegetables from the garden on the Schloss Dyck restaurant's menu. The castle and the park are open for visitors all year round.
What is the most popular colour greenhouse?
Light colours are very popular first and foremost 'Wood Sage' as the top colour. It is often chosen as it fits into all garden styles, it is softer on the eye compared to white and mediates harmoniously between plants and greenhouse.
In contrast to that, we are seeing an increasing interest in dark metallic colours which are trendy, catch the eye and set a strong graphic accent. These colours are chosen to match the modern features of a new building style in Germany.
This has been written by Sabine who is responsible for the overall marketing and communications of the German-speaking Alitex market.