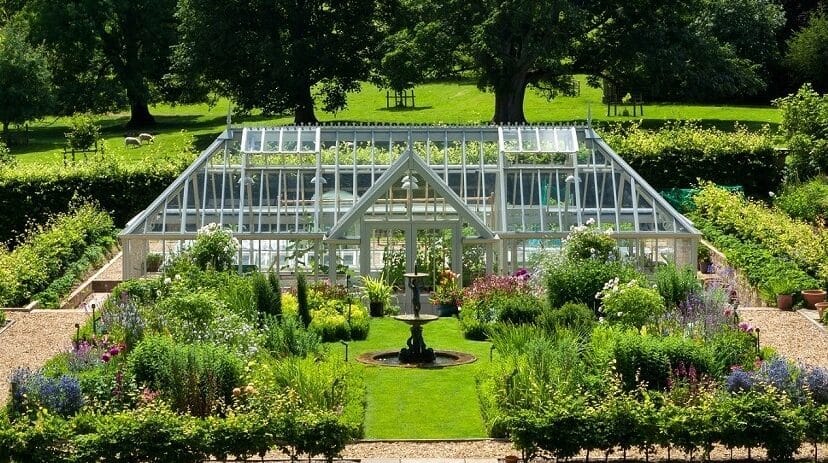 If you think all greenhouses look alike, look again. It is through devoted attention to detail that you will discover Alitex greenhouses are like no other.
You will appreciate our ruthless adherence to Victorian traditions
We have designed our structures with heavy bottom rails and ridges that contrast beautifully with our elegant slender glazing bars, permitting ample light. The height of the doorframe sits perfectly proportioned above the eaves, whilst the door itself has a beautifully memorable feature as it shuts with a resounding clunk. The link and lever arms are cast from aluminium to replicate the original Victorian aesthetics, and the cast aluminium spandrels solidly support the frame with strength and beauty.
See an Alitex greenhouse for yourself
It's often the case that you would visit a house before you buy it, and we believe that to be true of a greenhouse. It's a big investment, so viewing photos on a page isn't going to give you a real sense for the structure – you need to walk inside and look around, only then will you realise the difference.
This is why we invite you to come and get up close with one of our greenhouse, feel the atmosphere and realise how it will transform your garden. You may think all greenhouses appear similar but the more you look, the more you'll realise that Alitex greenhouses could hardly be more distinctive.
We have several structures at our show site in Petersfield, Hampshire which we welcome you to visit any time from Monday to Friday; you can view our full opening details via our enquiries page. Alternatively, you can visit one of our structures at a public location near you. You can find your nearest greenhouse by using our show sites in the UK and Ireland search feature – or call us on 01730 826900 and we can organise a visit to your nearest Alitex.
Preferred choice of industry experts
We are very proud of our long-standing relationships with the National Trust and Royal Botanic Gardens, Kew; working with world renowned industry experts is at the heart of our business, allowing us to develop and innovate our designs. View a range of our specialist case studies and testimonials.
Seeing an Alitex greenhouse up close is only the start, you'll want to explore our previous projects, meet with one of our designers and discuss your garden before making that final decision. Get in touch today to start your greenhouse journey.