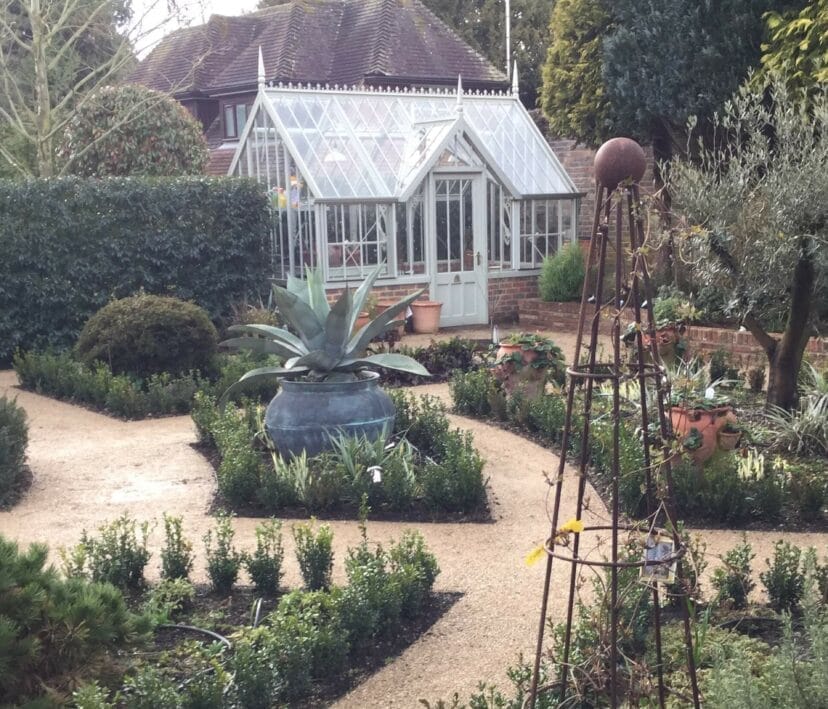 James is director of Designs by Sussex Landscape; an award-winning design and build company specialising in high-end large residential projects. Established 30 years ago, the company originally had a specialist arborocultural focus but is now also known for its architectural planting and bespoke features in stone and brickwork. James personally designs every project and enjoys being hands on with his small team. Below is a diary of James' week, the highs and the mishaps of being a hands-on Garden Designer.
Monday
Shocker! It's not pouring with rain – we may even see sun today. As a designer who project manages and builds his creations, a dry day is a happy one!
I meet the team on site where we are 3 weeks into creating a wooded copse with rambling banks, leading to a pond and waterfall area within the clients' grounds. There are some fantastic existing trees to work with, such as a magnificent Liriodendron Tulipifera – apparently the 2nd largest specimen in the UK (I'm a believer – this tree is huge!). My arboricultural roots (no pun intended) make me passionate about preserving and enhancing the beauty of existing trees. In many of our projects, clients are amazed by the difference made when using professional pruning techniques to enhance shape and form.
Today however, we're using diggers and dumpers to undertake the less exciting job of shifting soil 300 metres across to create the banks (hot work – maybe the sun could hold off for a while after all?). We've moved 27 loads so far! A busy day, but love seeing the changes starting to take shape. Home at 6pm to family and dinner (do love my food!). Paper work pending but a productive Monday in all.
Tuesday
The sun is out! Is this an end to the long wet winter? Slightly earlier start on site today as I've been invited to a conference and workshop as a guest of Alan Sargent. Alan is the founder of The Association of Professional Landscapers (APL), and is a RHS committee member and judge, author of The Landscaper's Survival Manual and much, much more. I have no information about the conference but how can I refuse this great man?!
After running through the material deliveries schedule with the team, letting them know I'm contactable (just in case – what could possibly go wrong?), I'm off to Petworth for the conference. Towards the end of an informative and interesting day, I was invited to become a member of The Professional Garden Consultants Association (PGCA). The organisation signposts clients to independent, specialist consultants, who provide advice and solutions to particular projects.
Back to site at 4pm with my head swimming with ideas and inspiration. After a team update and site inspection, I start up the forklift and… A blown gasket. The down side of being a hands-on designer- landscaper. Ho-hum.
Wednesday
Phone call to site ahead of arrival, as Wednesday is school run day for me. Two different schools, uniforms, bags and breakfasts, we're off! On site for 9am and on the phone to Deepdale Trees to confirm order of some beautiful Birch trees. As we're at the end of the bare root season, we are ordering just enough to start the beginning of the woodland walk. This area will have a Birch theme, using Betula albosinesis (known for its rich, orangey shimmering bark, which peels to reveal lighter layers) and Betula utilis jacquemontii (known as the 'Snow Queen Tree' due to its attractive white exfoliating bark). Rich, full under planting under the dappled light of the trees will create a woodland oasis for our clients to enjoy.
Join the team in turfing and pegging the back part of a 4.5 metre rolling bank. It's really hot today so watering turf and self as I go!
Thursday
Another unusually hot April day ahead. On site all day with little shade, to complete bank turfing; watering straight away to ward off the sun's rays. Calls to suppliers throughout the day, and organising an introductory meeting with a new client for a proposed partnership project with our pals Architectural Plants – all very exciting! Deliveries confirmed for next day including the birch trees and some lovely under planting of slender gold and green Acorus grasses, Anemanthele (often called gossamer grass or pheasant's tail grass), Libertia, Liriope, and fragrant Viburnum so looking forward to tomorrow – I'll be like a kid in a sweet shop!
Arrived home to find my youngest has been given the responsibility of looking after Bruno, the class teddy bear, so much of the evening spent ensuring he is photographed having his teeth brushed, a story read to him etc for show and tell the next day – a very serious business let me tell you!
Friday
With Bruno dispatched safely back to school with youngest ("Bruno has to wear a seatbelt, Daddy!"). I arrive on site, hoping for fewer phone calls, as there's setting out of steel edging for walkways to do and our entry to the Sussex Heritage Trust Awards to confirm. We're entering the craftsmanship and private garden categories this year. It's the 20th anniversary of the Awards, so fingers crossed! We pride ourselves on our traditional skills, such as flint work, stonework and dry stone walling and often include these aspects in our projects. Quality workmanship and materials make all the difference in setting off planting and we love building architectural features that will be enjoyed for generations to come.
Two full loads of soil arrive to form more banks. Talking of banks, unfortunately, being on site means I have to do some phone banking, which is always a bit hit and miss – transfers and suchlike should be easy-peasy in this day and age… right? The day thankfully finishes on a high though, with a delivery of quality plants from Architectural Plants – they never disappoint. Off for a pint!
Saturday
Always things to do on a Saturday, whether its product sourcing, meeting with clients or sketching a new design. Today, however, it's off to lovely Lindfield in West Sussex for some maintenance of the plants at one of our recent projects. A Mediterranean and English themed garden with a magnificent Alitex glasshouse and a bespoke entertaining area complete with a large curved drystone semi-circle bench and hand-laid black granite setts curved around a beautifully crafted metal fire pit centrepiece from the sculptural artist Andy Gage.
The fire pit illuminates the structure of the plants in the evening so special attention to these. A satisfying morning – I would do this for free! (shhh – don't tell the clients!)
Rounded off by taking the family for a lovely pub lunch with a view up 'Devils's Dyke', at the top of the Sussex Downs – a great way to end the working week.
To see more of James' projects, visit his Instagram portfolio designsbyjames_
Enquiries to sussexlandscape@live.co.uk