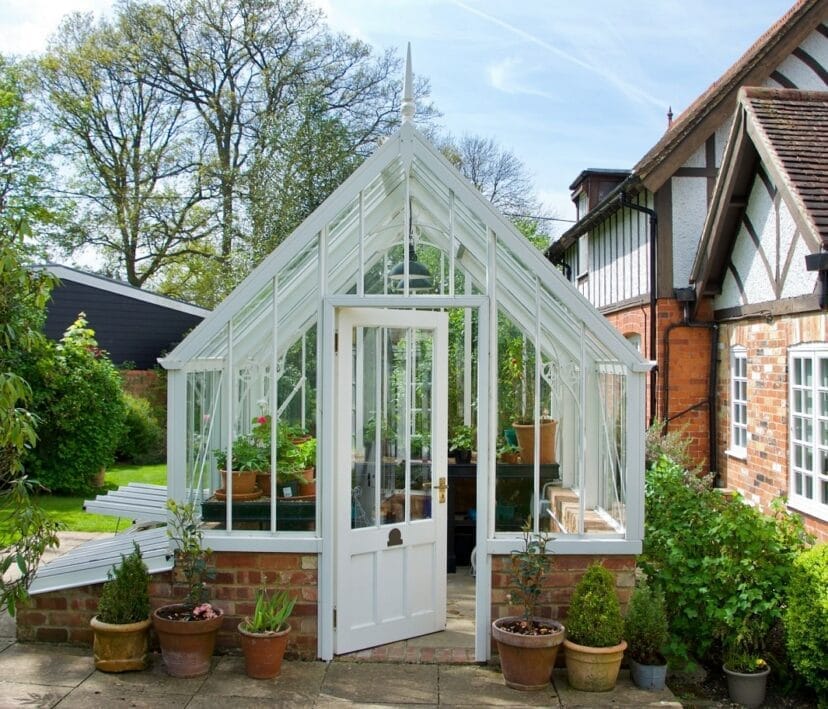 If you are looking for a greenhouse but have concerns about limited space we have a number of structures suitable in our
National Trust Collection
. Measuring from 8×10 foot, you can choose from our
Hidcote
and
Scotney
greenhouses or contact us about bespoke sizing and design.
Why Choose a Small Greenhouse?
Small greenhouses are suitable for those who live in urban areas with smaller gardens, or hobby gardeners that require a small growing space. Our Hidcote greenhouse is also ideal for people who simply don't want the structure to overpower their garden yet still require a space for growing. There are many great benefits from opting for a smaller sized greenhouse, which you can successfully incorporate into your outdoor space.
The Perfect Growing Environment
Small greenhouses create fantastic growing environments. The heat created by the sun has less distance to travel and therefore creates a very warm and humid environment in a short amount of time. This is perfect for heat loving tropical plants and citruses such as lemons or limes.
As with all greenhouses, you will have the opportunity to extend your growing season with a warm and sheltered space all year round. You will also have an area to store plants overwinter with protection against pests and a way to maintain beneficial insects.
Maximising Your Space
The structure requires careful thought on how to create a more efficient growing space, however with our expertly designed accessories we have ensured that you don't lose out on growing opportunities.
Benching – provides space, at the perfect height, to pot and keep plants. Greenhouse benches also provide great storage space. In order to make the most of your space in a smaller structure the layout of benches can make an important difference. By placing benches on one side of the greenhouse this leaves the other side free for larger potted plants such as citrus. Alternatively, you can create an L-shaped bench to fit into the corners of the greenhouse to fill one end, leaving the other end for larger plants or even for a little seating area.
Strawberry Boards – fantastic for efficiently using empty space on the walls of your greenhouse. These can be used for plants or as another place to store tools, seeds or pots.
Potting Shoe – perfect for transferring plants or potting up whilst keeping the soil neatly in one place. You can easily lift and move it around your greenhouse so that it can be stored efficiently when not in use.
Customising Your Greenhouse
A small greenhouse can also present an opportunity to add a pop of colour to your garden. Using one of the bolder colours from our National Trust Colour palette, such as Chalkhill Blue or Downland Stone you can ensure your greenhouse is the feature of your garden. You could also opt for an even brighter choice through our colour match system, simply supply us with the RAL code and we will do the rest. The small nature of the structure will prevent it from overpowering your garden, instead, it will become a fun and bright addition to enjoy all year round.
Shop our smaller greenhouses on our website.