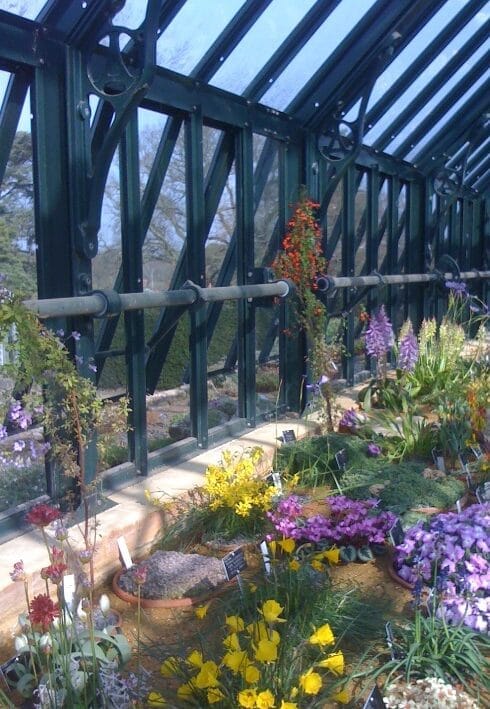 On a beautiful spring day, with the sun overhead and a surprisingly full car park we were able to drop into our greenhouse at Wisley to see what it looked like at the moment and what horticultural wonders are being cultivated.
The Wisley Alpine house is a bespoke Alitex greenhouse built in 2007 which provides a well-ventilated area for the seasonal displays of alpines from around the world.
This whole area now displays a huge variety of alpines which are changed daily to ensure only the best are on display and are carefully cultivated by the Wisley alpine team.
Seasonal changes bring in bulbous plants such as Cyclamen, Crocus and Colchicum in the autumn; to be followed by southern hemisphere flowers such as Oxalis and Lachenalia and others over the winter months. After climbing the steep stairs through an increasingly rocky area one comes across the greenhouse, yew tree green, blending perfectly with its' environment, nestled amongst many interesting alpine flowers.
As we approached the greenhouse we could smell the heavy scent of the colourful spring flowers wafting out of the doors. It is a richly floral yet light smell of spring, the narcissus providing the perfect top-note. Visitors wandered in through one door to admire plant specimens displayed on benches on either side and walked out of another.
Each pot was buried up to its neck in the sand on the bench, making the whole arrangement of different plants organised and tidy; it reminded me of a gallery or a curated collection, which is exactly what it is.
The sun lit up the fascinating array of plants, making the whole display seem jewel-like, tiny flower heads supported on slim stems. Spring brings spectacular displays of Narcissus, Crocus and Iris as well as gentians, saxifrages, Hepatica and Primula; with summer seeing samples of lewisias, sempervivums and campanulas.
For a magical day out at this time of year go along to your local RHS garden and soak up the wonderful plants that have been tended by experts and displayed at their peak. Quite inspirational!
For more details about RHS Wisley, click here.
For more information about this greenhouse specifically call Alitex on 01730 826900.