07 February 2018 By Tash Ellens
The SGD Awards are always an incredibly memorable event, held at the iconic Landmark Hotel. As you enter into the impressive glazed atrium, you are greeted by the beautiful 'Winter Garden', furnished with clean and classy interior that sets the enticing atmosphere the SGD Awards hold. The SGD do an incredible job every year, organising what appears to be an effortlessly smooth and enjoyable event. This year was no exception, filled with chatter, excellent company and the opportunity to make lifelong friends.
On Our Table
Joining us during the event was Tom Hoblyn, a dear friend of Alitex with many stories to reminisce. Tom is a British landscape and garden designer, RHS Chelsea Flower Show gold medallist as well as the coveted RHS People's Choice Award for his garden with The Arthritis Research in 2012.
Joe Swift, a previous Alitex lecture speaker, was sharing his recent travels to New Zealand and Cambodia. A great perk of the job, Joe leads garden tours in far flung destinations - with time off towards the end to enjoy the sights and culture (keep an eye on his Instagram for photos).
Emma Mazullo founded Mazullo + Russell Landscape Design along with Libby Russell, in March 2014. Together they work on a wide range of projects, from large private estates to high-end commercial developments and gardens through Europe. Emma was a delight to have on our table, chatting in-depth about her keen cycling hobby raising money for Blue Marine Foundation, a charity working towards protecting our oceans and sustainable fishing methods.
Also on our table was Local Landscape Designer Nick Tripp (from Taylor Tripp), Dawn McStravick (creator of elegant, inspiring and beautiful gardens) and SGD award winners Debbie Roberts and Ian Smith, from Acres Wild - all excellent company!
The Awards
This year at the SGD Awards, we celebrated our 5th anniversary of sponsoring the Lifetime Achievement award. The award was presented to Fernando Caruncho, renowned for his harmonious geometrical patterns, a master composition with a unique approach and ethos.
Fernando Caruncho is famous internationally for his minimalist gardens and the use of light and organic shapes. The SGD Council appraised: "since the creation of his first garden in the early 1980's, Fernando Caruncho has designed timeless gardens in Spain and internationally with a simplicity and lightness of touch using geometry, light, water and connection the wider environment at the heart of his projects. Fernando is an inspirational philosopher, landscape architect and gardener who continues to inspire with his philosophical approach to garden creation and the SGD is delighted to present him with this year's Lifetime Achievement award."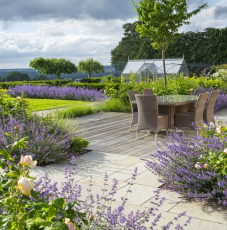 We were delighted for
Acres Wild
, our table guests Debbie and Ian, winners of the Large Residential Garden award with their stunning project in the Surrey Hills. The judges expressed it as "A beautifully planned garden in a lovely setting, creating romance and sense of place. The use of meadows is key to linking it to the landscape and is exactly what a garden of this nature requires. A seamless and creative design demonstrating the skill of the designers. An extremely professional plan with good attention to detail allowing for easy interpretation." - also we were quietly chuffed that the winning garden is home to an Alitex greenhouse.
And finally, it would be wrong not to mention the host of the evening, the marvellous Ann-Marie Powell! She looked stunning, amazing dress, stonking heels and show-stopper earrings, mixed with her trade mark energy, fun and enthusiasm! Overall a wonderful evening celebrating some incredible design projects. We are lucky to work in such a creative and inspiring environment. For more details on the Society of Garden Designers, their approved list of designers and their award winners got to www.sgdawards.com.