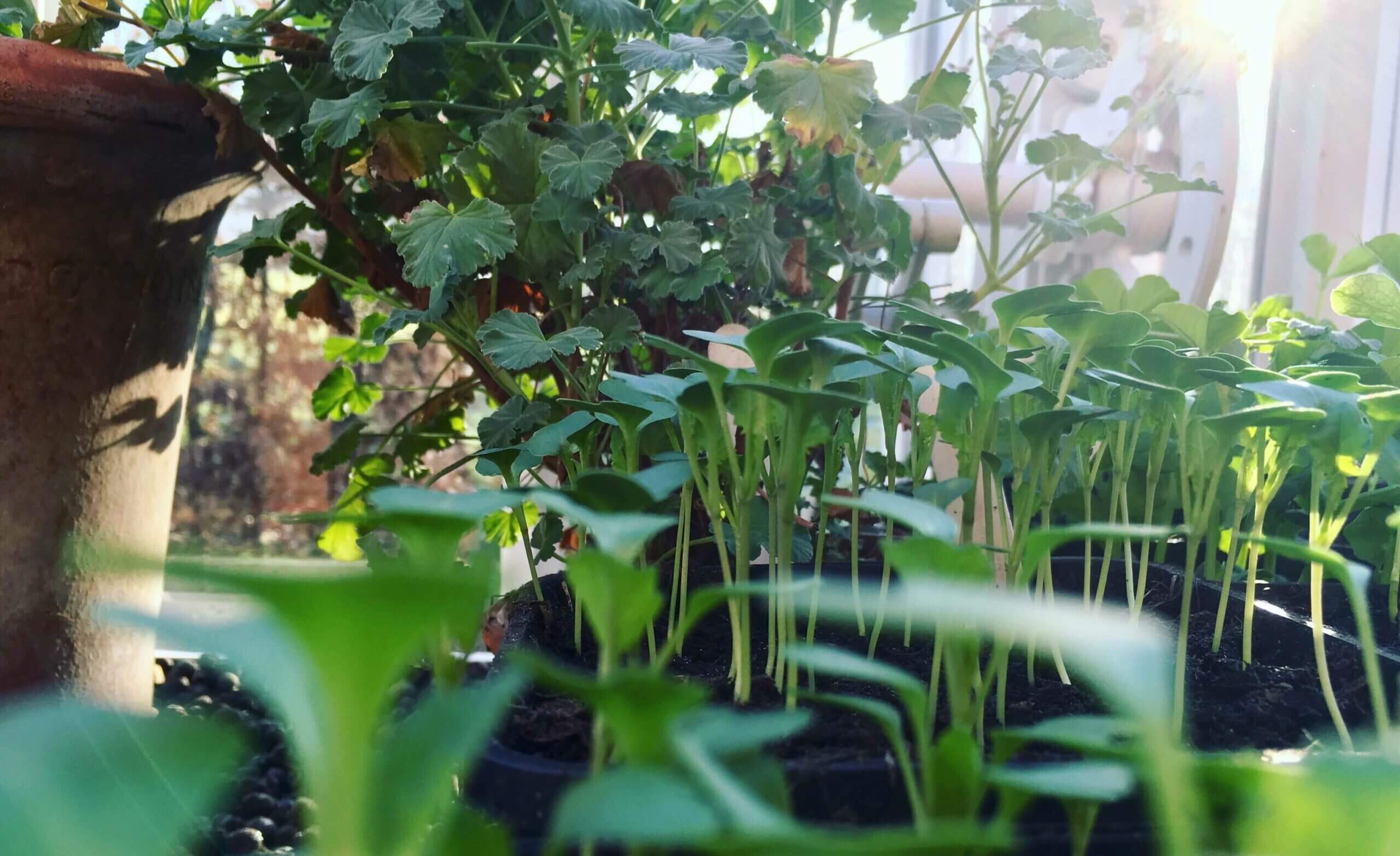 Winter (December, January, February)
Although the colder months tend to be quieter in terms of sowing, there is still a range of greenhouse vegetables you can begin early – making use of your heated propagator and window sills.
Celeriac, Celery and Rhubarb seeds can be started in a heated propagator
Herbs, Salad Leaves and Spinach can be sown and placed in sunny windowsills
Potatoes can be planted in batches, chitting an early batch in December
Onion seeds can be sown now to produce an early crop
Leeks need a long growing season, so start them early in the greenhouse
Tomatoes, Cucumbers and Sweet Peppers can be sown in February – ensure plenty of warmth is provided
Spring (March, April, May)
We all know Spring is the ultimate time to really get things growing. Once the risk of frost has passed there are many seeds and varieties you can sow.
Perennial Herbs such as Rosemary, Mint, Oregano and Chives should be planted in deep pots and fed regularly with balanced fertiliser
Squash, Marrow, Courgette and Pumpkin seeds should be sown in Spring so that they are ready for harvest in the Autumn months
Runner Beans and French Beans can be started in the greenhouse and then planted out once the risk of frost has passed
Basil seeds are easy to sow and quick to germinate
Chilli Peppers can be germinated in a propagator – kept moist but not soaking
Cauliflowers grow best in very fertile soil
Kale can be started in the greenhouse before transplanting to a prepared bed
Summer (June, July, August)
The season of salads and when fresh fruit is at its optimum flavour – but we can't forget to maintain our sowing and planting schedule.
Cucumbers should be sown in individual pots or modules
Winter Cabbage can be sown weekly to provide a crop that will last throughout Winter
Parsley- soak seeds overnight for a speedier germination
Coriander can be grown from stems or seeds with lots of water
Winter Lettuce should be started towards the end of the season and planted in weekly batches for a leafy supply through to Spring
Autumn (September, October, November)
Spring Cabbages like well-drained, moisture retentive and fertile soil – planting them in Autumn allows them to settle over the Winter
Basil, Chives and Parsley can also be planted during October – grow in well prepared seed beds or trays
Land Cress has the same peppery taste as Watercress but is much easier grown – it can grow all year round and is very tolerant to cold weather
If you have any favourite vegetables that we've missed and they grow well in your greenhouse, share them in a comment below. If you're interested in propagators, heaters or other additions to helps with growing your vegetables, be sure to check our accessories page where you will find a range of products for renovating your greenhouse.