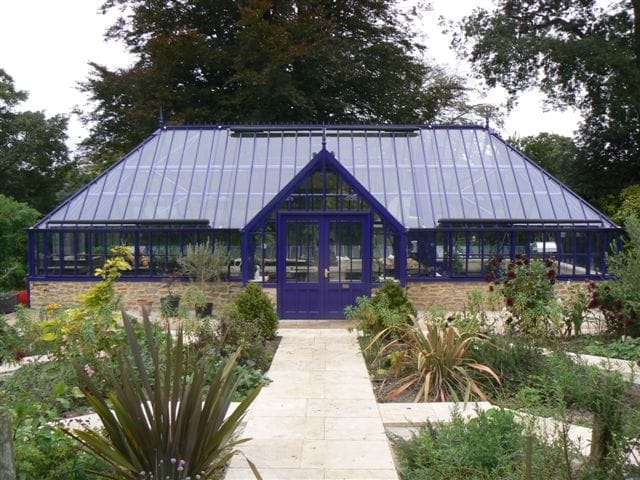 Aluminium Greenhouse and Conservatory Preparation for a superior quality paint finish.
At Alitex, Rob oversees the flightpath (a beam from which parts of the greenhouse or conservatory are hung) being dipped for 15 minutes into tank 1. This is full of hot water (55c) and a degreasing chemical and is agitated by air being blown through it. Tank 2 is a rinse tank full of de-ionised water, again with air pumping through to provide a more thorough cleanse. The filtration system keeps the liquid pure and clean. Tank 3 is a primer – a chemical based product mixed with deionised water (PP920) which also has a necessary filtration system to take away any dust particles. (It is this tank which is the one Alitex continually works to find better environmental "answers", for although the current solution is a good one).
The next stage, physically located adjacent to the tanks is the oven where the primer is baked on at 127c. The oven is gas fired from LPG tanks sited externally. Recent improvements and expansions within the factory have seen Rob's entire area of responsibility been relocated into a larger space which he is pleased about. Rob is easily spotted as the man who always dresses as if he is on a tropical island – it's hot around the oven, and the lid comes off to allow the flightpath to descend within and then shut down again. Each flight path takes around 1hour 30 minutes and as the aluminium cools down after the oven, absolute care must be taken to keep the metal away from human touch and draughts which might bring with it dust.
Polyester Powder Coating ensures a long lasting durable finish, it is both functional and aesthetically pleasing and essentially ensures that our greenhouses and conservatories are protected against the elements.
In our experience the paint finish we have developed here will last for decades, but it is important to keep it clean and to keep up with repairs. Call us for more details 01730 826900 and for your own private tour of our site and factory.