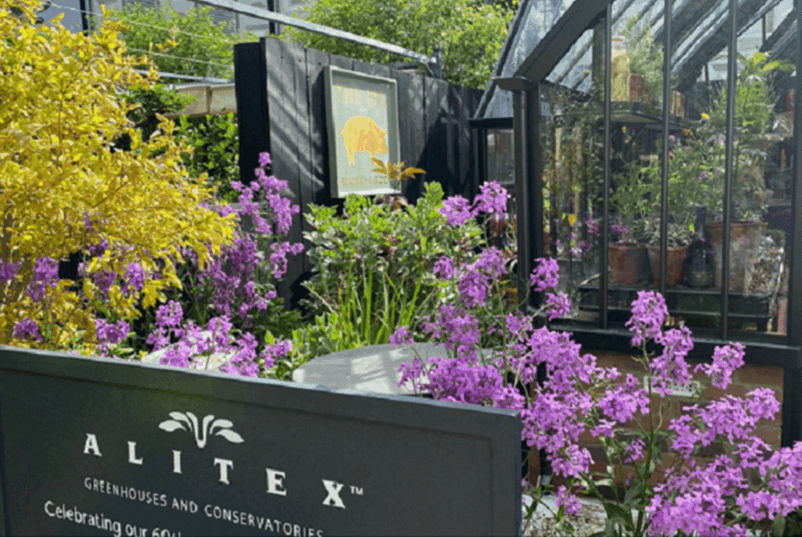 THE PIG goes to Chelsea Flower Show with our good friends at Alitex
It's that time of year…The Chelsea Flower Show returns to the grounds of the Royal Hospital Chelsea between the 24th and 28th of May and we'll be there! THE PIG team and Alitex, makers of our bespoke Victorian Greenhouses, will be popping up at Chelsea with two greenhouses from their National Trust collection.
Inside the two greenhouses, you'll step into our 'Piggy' world. The Mottisfont greenhouse will host an array of edible plants, our gardeners offering great garden advice and tips, and a plot to plate demonstration from THE PIG team.
Inside The Ickworth greenhouse, you'll find our botanical cocktail bar stocked with all our favourite British suppliers – Hepple Gin, Simpsons English Sparkling Wine, Boatyard Vodka, Blighty Booch Kombucha and more! A few of the cocktails on the menu will include our 'Mottisfont' garden rhubarb cocktail and our 'Hepple Gin & Tonic'.
Ahead of the show, we spoke to our Head Kitchen Gardener, Alex Coutts, at our newest PIG in the litter, THE PIG-in the South Downs. Alex will be attending the show, and told us about what we can expect…
What are you most looking forward to at this year's Chelsea?

As always with Chelsea, I am looking forward to seeing all the different plants, flowers, and amazing displays. I always find it interesting to see the huge variety as well as the fantastic efforts that are always put into the show. This year in particular, I am looking forward to viewing the show gardens and how they will be incorporating the wild theme of Chelsea this year. From natural spaces with native plants in hedgerows, woodlands and wildflowers.
Can you explain the theme this year of "celebrate"?
At THE PIGs, we have been working with Alitex for the last 11 years and their greenhouses have now become a must-have at a lot of our properties that don't already have an existing greenhouse. The greenhouses at our properties are massively important to our Kitchen Garden teams and our plot to plate ethos.
We are excited to celebrate this relationship as Alitex celebrates its 70th year in business and 60th year at Chelsea flower show. The Mottisfont greenhouse will enable us to recreate how we use the greenhouses at the hotels, as a nursery for starting off veg seedlings and large array of aromatic herbs, and edibles that enjoy a bit more warmth.
What are you growing in preparation for the show?
Our cocktails are inspired by the Kitchen Garden, so we have been growing some of the ingredients to make our delicious tipples for the day. Some of the ingredients include green ginger, rosemary and rhubarb.
Our teams have been preparing for our working greenhouse and have a great selection of seedlings at different stages, recreating what we will have going into our Kitchen Gardens at this time of year. From peas to beetroots, a mix of salad leaves and greens.
Join us, alongside Alitex, on stand MA334 in celebration of our decade of friendship!