It's hard to believe and difficult to digest, but the harsh reality is that RHS Chelsea 2015 is sadly over; however if you're in need of one last flowery-shaped fix, take a look at our best-bits from the past week.

This year we featured a Scotney greenhouse from our National Trust collection. It was transformed by Clifton Nurseries, into a newly weds paradise. There were 15 pots of fragrant Stephanotis entwined around the space giving the greenhouse a dreamy atmosphere, it was dubbed by the Telegraph as 'The Scented Greenhouse.' The roll top bathtub also gave visitors some unique inspiration for their own gardens, although there were a few mentions of fitting some extra blinds.
As well as the Scotney, we also showcased the largest bespoke greenhouse we've ever shown at Chelsea. The structure resembled the same newly wed couple 30 years on, with a traditional 'his and hers' theme; one side housed a stunning orchid display whilst the other, a productive kitchen garden. The crop that featured in the kitchen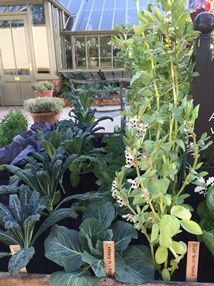 garden was grown by the team here at Alitex with a little help from our friends at Thrive and it was a hit. Our purple 'shiraz' pea got lots of attention with many visitors requesting a taste.
Best Tradestand in Show
The judges thought our stand captured the imagination and awarded us with 'Best Tradestand in Show'. We are so proud of this accolade, it was a huge team effort. To see more images of our award-winning unique greenhouses, take a look at our Pinterest boards.
Two shiny new products
We launched two new products at Chelsea this year; our Strawberry boards and new Heathlands cold frames. Both were well received and visitors were particularly impressed with the new wider-opening cold frames.
Loopy for Lupins
2014 was the year of the Hydrangea but it seems this year saw an invasion from the 70's; the Lupin made a comeback and was seen across many stands, including our own. Taylor Tripp, who designed our planting, created a beautiful aubergine and burgundy scheme accompanied by a deep purple Lupin called 'Masterpiece'. When the bell rang at 4pm on Saturday for the famous plant sale, the Alitex stand came under siege as garden lovers fought to get their hands on one of our sought-after flowers.
Show gardens
After an 11 year absence from Chelsea, there was a huge cheer across the horticultural industry when Dan Pearson's Laurent-Perrier Chatsworth garden was announced 'Best in Show.' It will be Dan's final Chelsea design, so great to hear he has gone out with a bang; if you didn't get to see the 'near-perfect' garden at Chelsea, it will be held as an exhibition at Chatsworth.
Another favourite of ours was the Royal Bank of Canada garden designed by writer and broadcaster Matthew Wilson; it was awarded with a silver gilt. The elegant styling was accompanied by some unique plants including a 'macro bonsai' olive tree. Matthew Wilson will be speaking at our annual lecture on the 10th September.
The Cloudy Bay garden, designed by brothers Harry and David Rich, gave us a fantastic view across main avenue. Their garden, resembling the best-selling red and white wines from Cloudy Bay, also had a moveable shack that allowed you to enjoy the different perspectives of the garden. It was awarded a gold.
We hope you enjoyed this year's show as much as we did. What was your highlight? Did you manage to get a photo on our stand? We would love to see them, send them to us at sam.duke@alitex.co.uk, or tweet us @Alitex.
We are also on Instagram, follow us @Alitex_.
Chelsea is only the beginning of an exciting event-packed season. Take a look at our full list of events and shows.