Greenhouse ventilation is one of the key elements in creating the perfect growing environment. Along with sunlight and irrigation, ventilation plays a big part in ensuring your plants thrive. Greenhouse roof ventilation may seem difficult to perfect but we can help you master it!
How do I ventilate my greenhouse correctly?
Every greenhouse is different but as a rule of thumb, for most common greenhouse plants, damage can happen when the temperature reaches 27°C (81°F). We would recommend purchasing a minimum/maximum thermometer to monitor temperature and work out your ventilation accordingly. Throughout the highs of summer it may be necessary to keep your greenhouse roof vents and doors open continually, and more attention will be needed during the day night temperature swings in spring and autumn – your min and max thermometer will help you decide if this is needed.
How much ventilation does a greenhouse need?

There are a few ways to ventilate your greenhouse but the principles remain the same – to create a chimney effect. This is created by having side and roof vents on opposing sides of your greenhouse – cold air enters through the lower side vents and then rises as it is heated within the greenhouse. This is then expelled through the greenhouse roof vents creating a small vacuum which in turn pulls more cold air through the lower side vents – lowering the temperature and circulating the air in your greenhouse. You can achieve this with both manual and automatic vents:
Automatic roof vents
Alitex greenhouses are fitted with automatic roof vents as standard to ensure overheating doesn't occur. This system needs no power, using wax pistons that expand as temperatures rise, opening the vents.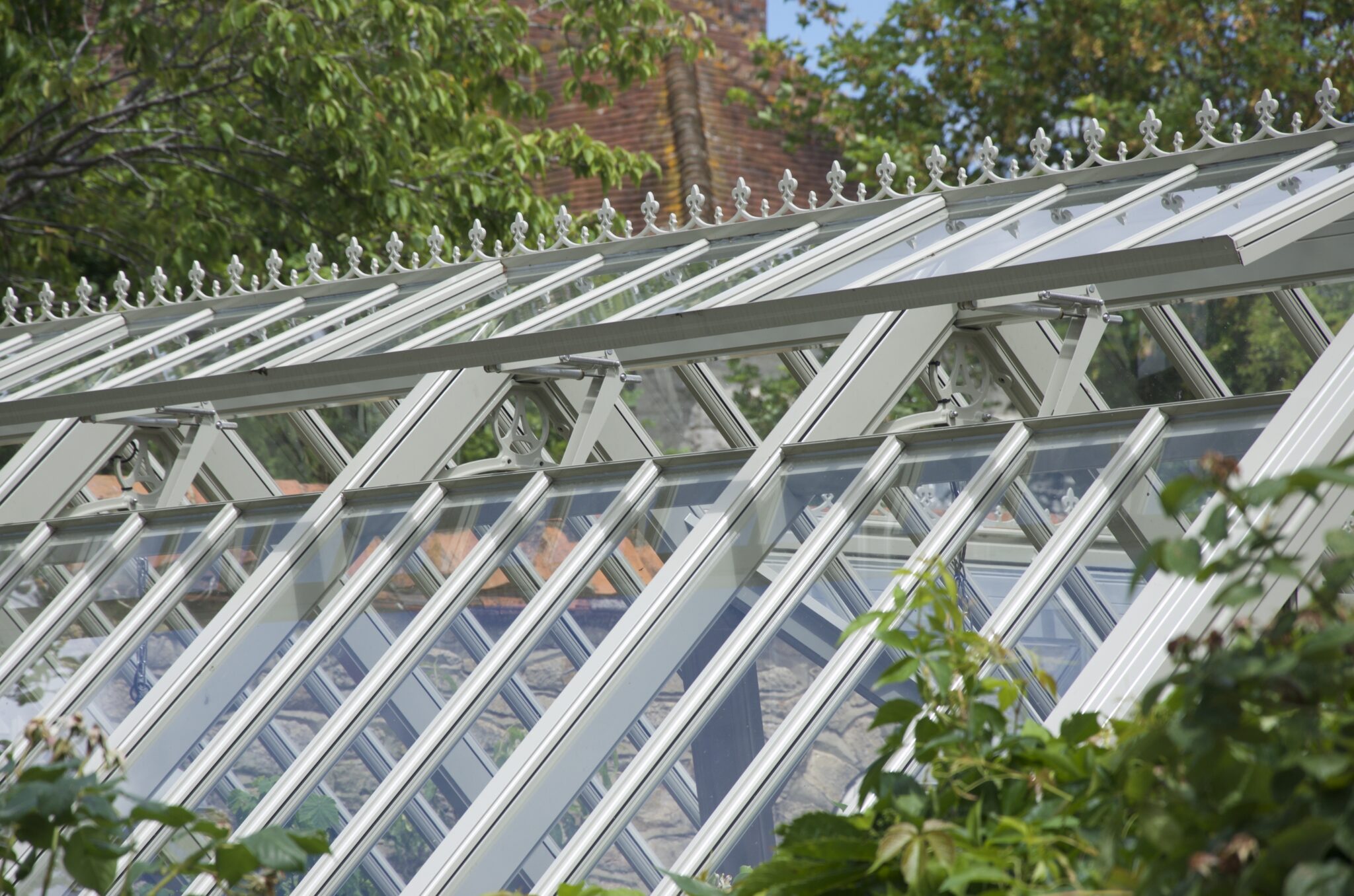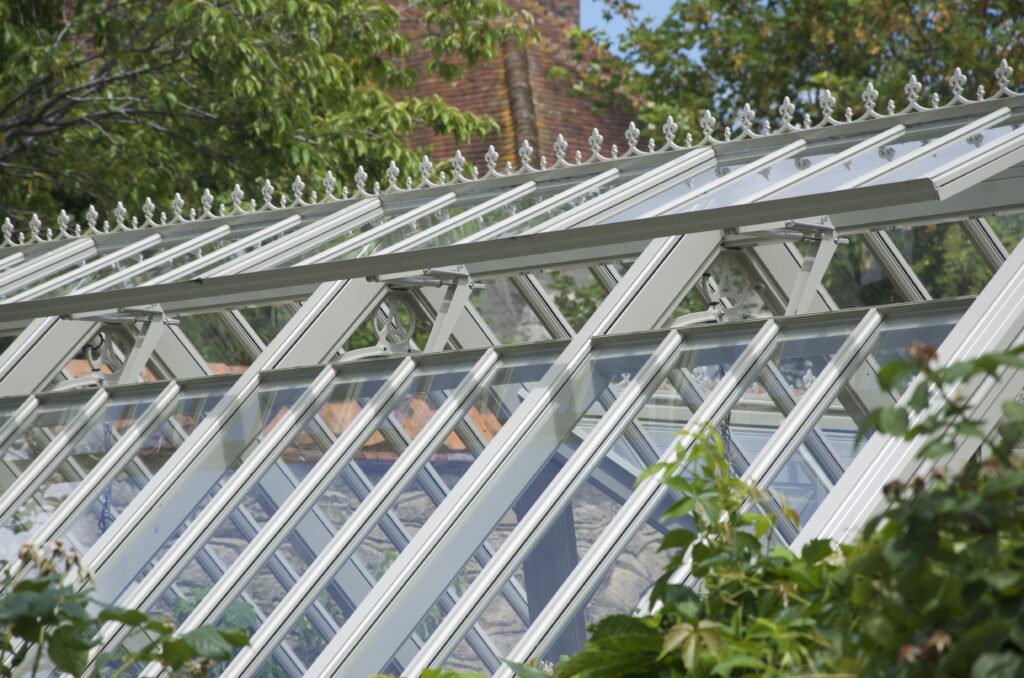 As an alternative, we recommend an actively powered greenhouse roof vent if you are in a more professional or commercial environment, or growing specialist plants. These vents work alongside a temperature sensor held at plant level, and open and close accordingly. This enables you to have complete control at what temperature you want your vents to open and shut.
Manual side vents
One of the key features of an Alitex greenhouse is the full depth top hung side vent. The large opening allows maximum airflow into the greenhouse creating a more buoyant atmosphere – great for plants and people! A distinctive cast aluminium lever allows for manual operation of our side vents. Designed to replicate the Victorian style, our vent handles are both functional and aesthetic.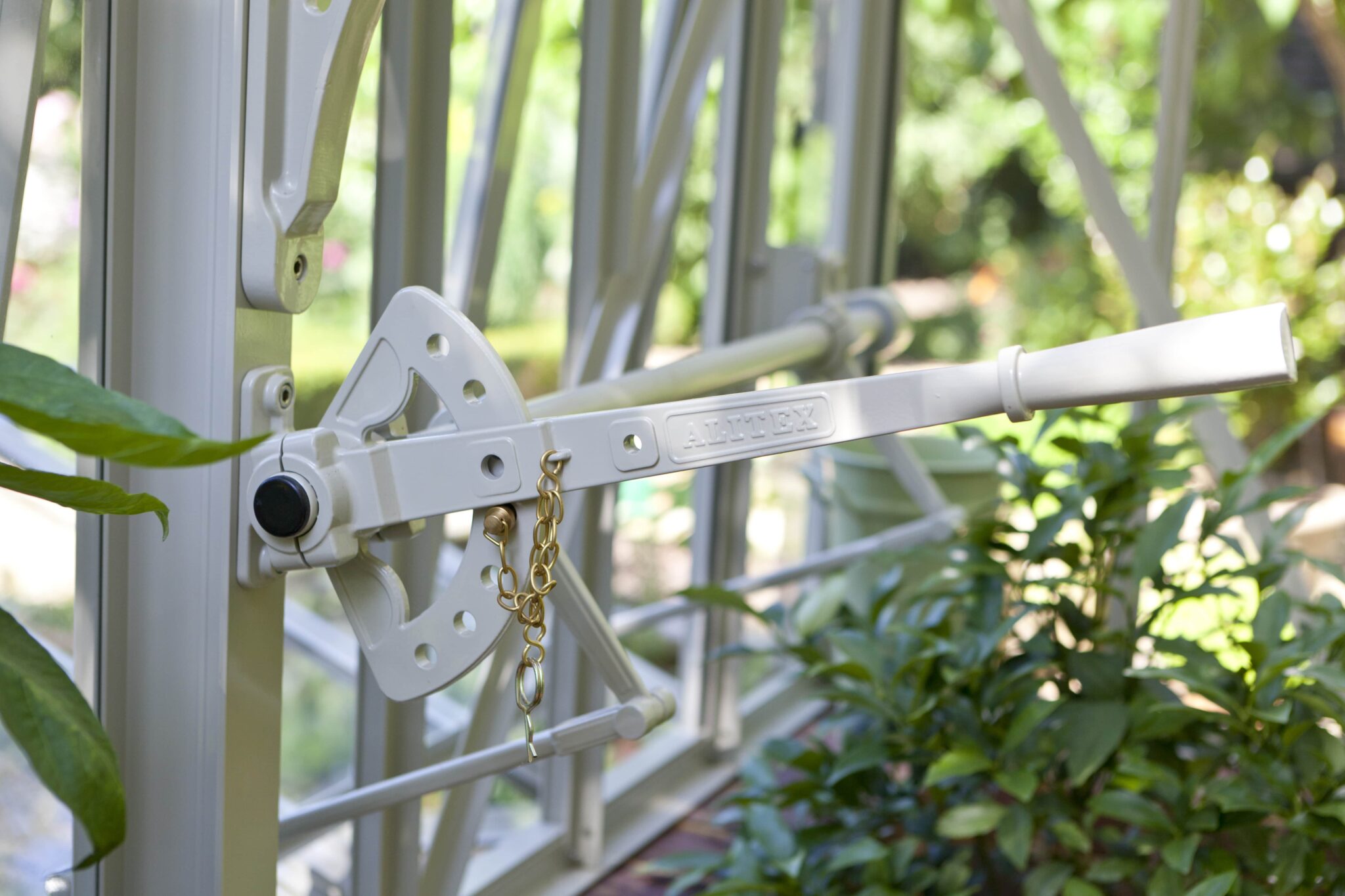 How often should you water plants in a greenhouse?
Ideally, you want to water in your greenhouse in the early morning. In doing so, you can ensure the water is absorbed and used before it is evaporated by the midday sun. Whilst you're doing the early morning water you may also want to 'damp down' your greenhouse, by simply watering the flooring to boost the moisture levels in the air which helps the plants protect themselves from extreme heat.
How much ventilation does a greenhouse need?
With proper monitoring and continuous ventilation of your greenhouse there will be no need to 'air out' your greenhouse. Although we would recommend cleaning out your greenhouse once a year once before or after your main growing season. Late winter is the perfect time to have a thorough clean as it ensures your growing season can start pest free.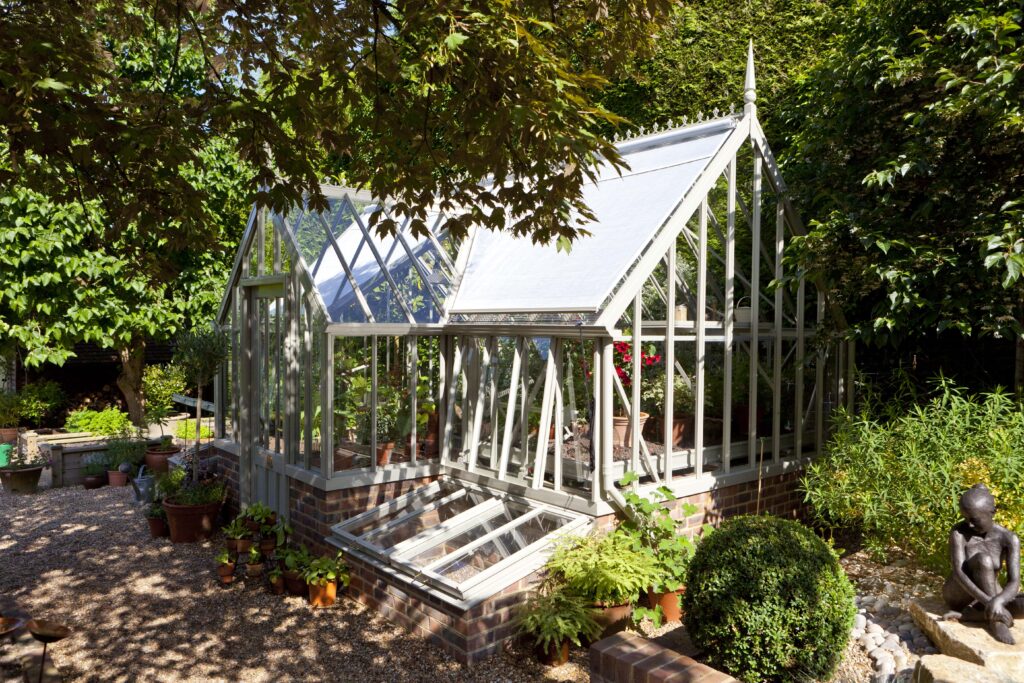 Is condensation in a greenhouse bad?
Condensation happens when warm moist air meets a cold surface, it cools quickly turning to water droplets. This tends to happen more frequently when the difference between indoor and outdoor temperatures are greater. Having good ventilation will greatly help keep condensation to a minimum, and keeping side vents cracked open during colder months if overwintering plants may be helpful. Keep an eye on temperatures though!
Condensation is of greater concern if the greenhouse structure is wooden. One of the joys of an aluminium greenhouse is no need to worry about water or moisture on the frame, as it cannot rot or decay.
If you're a serious grower wanting the perfect growing environment, request a brochure here, to start your greenhouse project or keep up to date with our latest growing workshops here.