We are delighted to be collaborating with several of our dear friends this year at our 60th Chelsea Flower Show, including the adventurous joiner Oli Carter. We love supporting talented individuals in our local area, and Oli's workshop is a stone's throw from our home in Hampshire, so when he came to us with his grand vision for "Bodelia", we knew this was the perfect partnership.
"'Bodelia' is a table for the world, to break bread, drink wine and share a smile around."
Made from one solid plank of Cedar of Lebanon, with the burnt details in the table adding contrast and depth to the materials natural beauty. We are delighted to feature "Bodelia" on our stand MA334 this year at Chelsea, alongside 8 matching stools. Our theme for the stand is celebration and we are curating a convivial atmosphere, and this 4 metre design embodies all of that. The timber of the table and stools beautifully juxtaposes our aluminium glasshouses, and will be a real spectacle aesthetically.
We recognise the symbolism of furniture in the nature of celebration, specifically a table, as it offers a physical space to come and be together. That is why Oli's masterpiece is extremely important to us in celebrating not only our 60th Chelsea, but also our 70th year in business.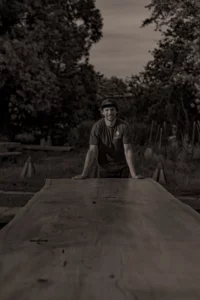 Oli initially fashioned a table from 'Bodelia's' sister plank, but knew he had to make a table from this plank too. "It's one of those pieces of wood that needs to be seen by the masses and when the opportunity arose to collaborate with Alitex I knew it was meant to be. Its name comes from my daughters Aurelia and Bodhi, this one is for you my girls."
"The stools are made from burnt ash and I love how the texture of the grain comes through with the charring detail. These lumps are often commissioned as coffee tables, side tables and now stools. There's just something about one solid mass of material that is so real and tactile. The table and stool collection are based around this theme, linking us to nature and nature to us."
"It's been such a pleasure to work with this timber, knowing that so many people will see it, touch it, hug it and feel it's good energy".
Environmentally-friendly and sustainably sourced, Oli creates robust, bespoke, and beautifully constructed wooden pieces with impeccable precision and attention to detail. Excitingly, Oli also has 2 more planks from the same tree as Bodelia and her sister, so the journey of the Cedar of Lebanon that fell, is far from over yet.
We would love for you to join us around Oli's 'Bodelia' on our stand MA334, and relish in his craftsmanship.