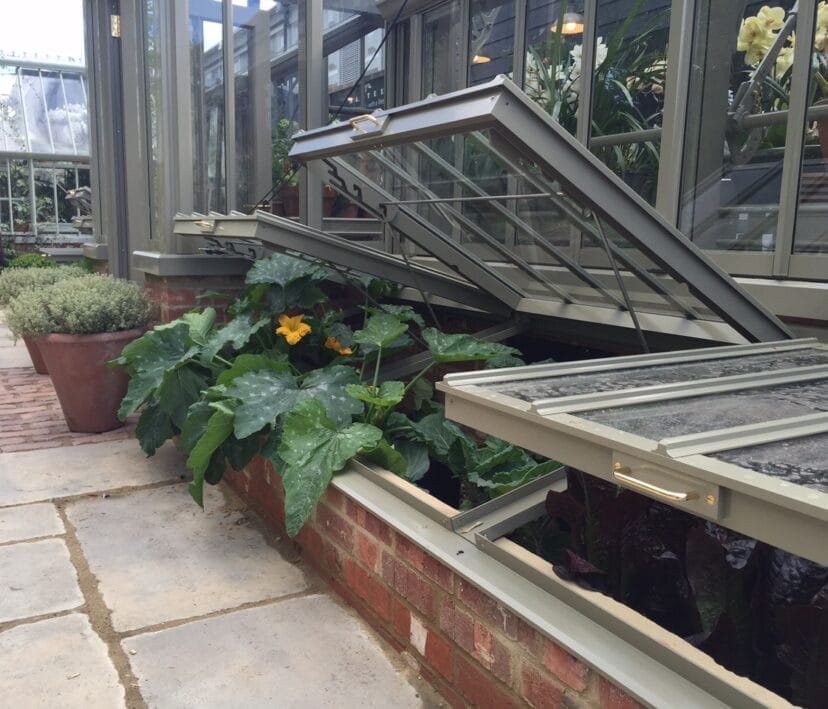 This year at RHS Chelsea we will be launching two new products. Come along to our stand on Main Avenue and take a look at them in action.
Heathlands Cold Frames
Cold Frames enhance the effectiveness of your greenhouse by providing an additional 'cold-protected' environment. They create the ideal conditions for hardening-off foliage, propagated in your glasshouse. Our new Heathlands cold frames make it easier to access your crops by giving you extra height and more space. We have removed the single metal prop from the middle and replaced with two metal props on rollers, either side of the frame. An added safety catch also stops anything getting trapped should the lid fall unexpectedly. The cold frames are a maximum width of 0.9m as standard wide but can be built to any length and are powder coated to a colour of your choice.
Strawberry Boards
The concept of the strawberry board dates back to the Victorian heyday of growing under glass. It was well know that the closer the plant and foliage to the glass, the more impact would be gained from the suns rays, particularly in times of lower light levels.
So if you wanted to grow the perfect strawberry to impress your friends, you would grow them on a strawberry board, which can be mounted on the eaves, high on the rear wall, or even along the ridge. By being close to the glass, the plants got the most out of the sun and did not become 'leggy'.
This principle stands for many other plants and it is a perfect place for starting things off in early spring. Beyond that, it is valuable extra space in the busy growing season as well as a lovely display shelf all year round.
Both of these products will be featuring at RHS Chelsea Flower Show, please do come along and give them a try. For more information or if you would like to add any of our accessories to your greenhouse, give our TLC department a call on 01730 826 900, or email us at enquiries@alitex.co.uk.