11 September 2017 By Mark Diacono
If, like me, you have a penchant for leather, read on. In those few weeks between summer proper and the woodsmoke of autumn, I like to do a little preserving. A little pickling, freezing and drying of what's coming to an end in September.
This year, Szechuan pepper and chillis have done particularly well, so there are three recipes including the former and two with the latter.
To me, jam is like Mr Blue Sky: it's not something I want to experience every day, but the once in a while when I do, I enjoy it very much. So I make a few jars here and there, but any excess of fruit is more likely to find its way into a fruit leather. It keeps for an age and is a brilliant energy-giving snack when walking or out on the go.
Raspberry and Szechuan pepper fruit leather
I made the first leather of this year with yellow raspberries, though it works well with most fruit as long as you combine with apples for its pectin. Szechuan pepper is pretty lively in September, so go easy if you're using homegrown for the first time. Leathers freeze very well in sealed container and keep for around a year.
Makes 2 sheets, roughly 20 x 30cm
700g raspberries
600g peeled, cored and chopped cooking apples
Juice of 1 lemon
About 140g runny honey
10-20g Szechuan pepper
Preheat the oven to 70°C. Line two baking sheets, each about 24cm x 30cm, with greaseproof paper.
Put the fruit and lemon juice into a large pan. Bring to a simmer, partially cover and cook over a low heat for about 20 minutes, stirring now and again. Blitz to puree.
Add 20% of the weight of puree with honey and stir well.
Spook on to the baking sheets, using a spatula and tipping the sheets to spread the mixture to the edges. Place in the oven and allow them to dry in the gentle heat for 8-10 hours until just tacky but not sticky. They should peel easily from the paper. When the leathers are cool, cut into strips, roll in parchment paper or cling film and store in an airtight container. Store in a cool place and use within three months.
Pickled Chillies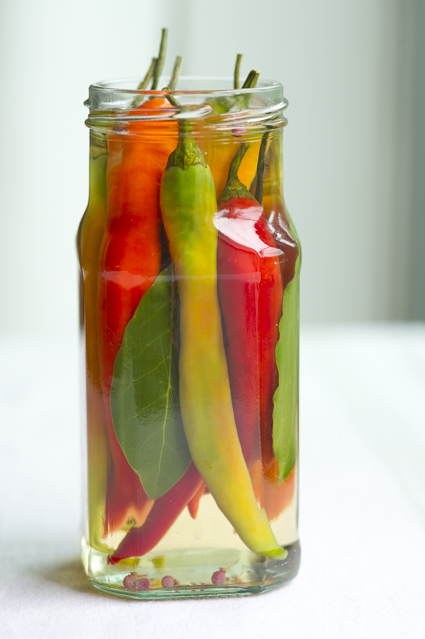 September can be the month where you end up with too much of a good thing. Chillis are a case in point. Happily, they freeze and dry well, while pickling preserves their shape, colour and flavour beautifully. This only takes a few minutes, the results are fantastic. Black peppercorns are fine here, but if you grow your own Szechuan pepper (and why wouldn't you), you'll get the extra zing.
250g chillis
500ml white wine vinegar
100g sugar
12 Szechuan peppercorns, or black peppercorns
3 bay leaves
pinch of salt
Dissolve the sugar and salt in the vinegar in pan over a medium heat. Add the pepper and bay, and simmer for 10 minutes. Turn off the heat, put the chillis in a jar, pour the spicy vinegar over and seal.
Salt and Pepper Padron Peppers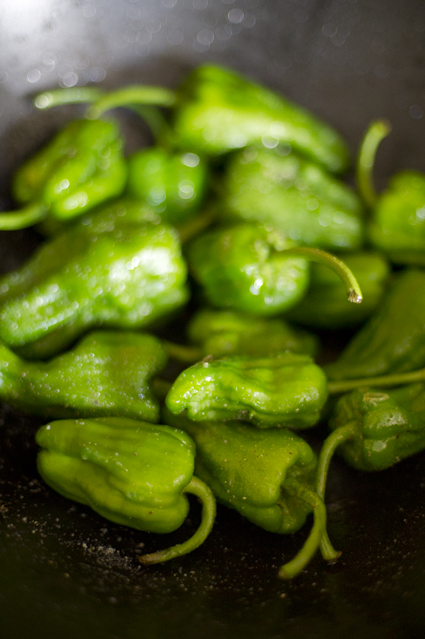 If you grow Padron peppers, you can do little better with them than this hardly-a-recipe. It's a bit of a Russian roulette, as while most padrons are mild, the odd one will give you a surprise. If you haven't grown them yet, buy some and you'll be growing them next year.
12 padron peppers per person
Sea salt
Freshly ground Szechuan or black pepper
Vegetable oil
Heat a slick of oil in a wok or large saucepan until it begins to smoke. Add the padrons and fry over a very high heat. As the peppers blister, give them a flip. Add plenty of salt and pepper as they cook. It should take only a minute or two to blister them on all sides. Serve with a cold beer.
Shiso and rose vodka
Shiso (aka perilla) will one day be in every supermarket. It leaves a taste of 95% fresh, bright cumin to 5% mint, with those proportions varying a little over the season. It's beautiful, easy to grow and marries perfectly with the scent of rose.
Shiso
Rose petals
Caster Sugar
Vodka
Quarter fill your jar with caster sugar, then tip it out into bowl. Half fill the jar with an equal amount of shiso leaves and rose petals, tip on the sugar and then top up with vodka. Flip once a day to dissolve the sugar. Remove the leaves and petals after a fortnight. Leave it for at least a month before you start drinking it. Serve ice cold, on its own or diluted tonic or prosecco.