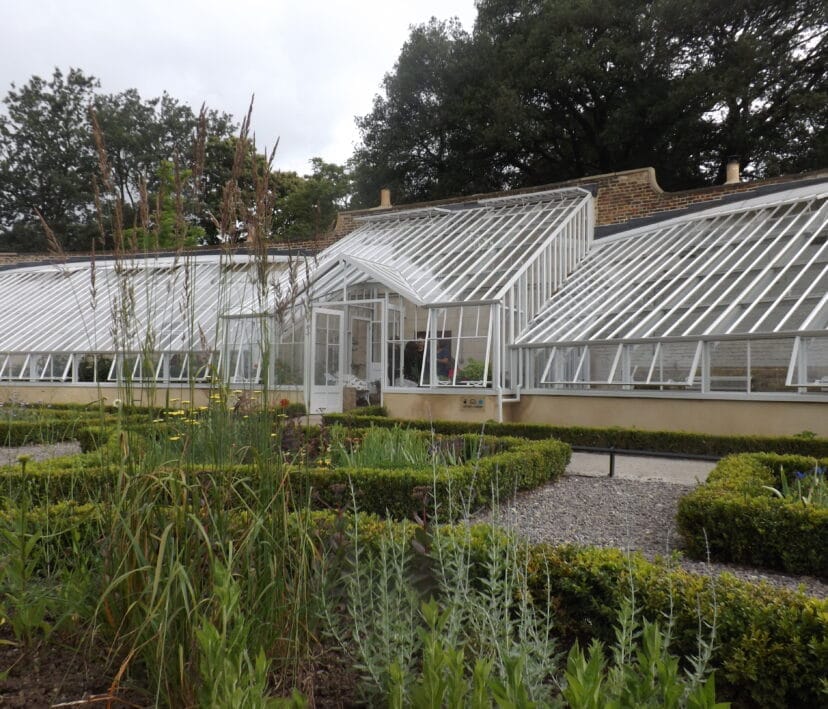 It's a new year and if you're at the beginning of your greenhouse journey it can feel a little daunting when it comes to the internal layout. Whilst every detail of your greenhouse is completely dependent on your growing needs, we have taken inspiration from some of our public greenhouses to demonstrate how you can utilise your internal spaces depending on the size of your structure.
Fulham Palace
Fulham Palace is large bespoke glasshouse, designed to replicate the old wooden structure that historically stood in the gardens. If you are having a similar size, or are just wondering how you will fill a large growing space without feeling too daunted, it is worth a visit to this public site.

The glasshouse at Fulham Palace boasts a double lobby entrance with two partitioned sections either side. There is a defined pathway running throughout the greenhouse for ease of access for visitors and gardeners. Having two distinct areas allows you to grow specific plants depending on their growing needs.
If you are a grower of exotic and tropical plants, this might be an idea for you. Partitioned greenhouses mean that temperatures can be varied and controlled with the addition of heating solutions and still not affect the rest of your plants. Alternatively, one area of your greenhouse could be for entertaining. Keep your planting minimal and enjoy a relaxing dining space by including tables and chairs. Many of our clients have hosted dinner parties in their greenhouse.
The Pig at Bridge
If you're considering a fully functioning growing greenhouse where you can enjoy every fruit of your labour, take a look at PIG Hotels. At any of THE PIG Hotels you will find an enormous passion for growing. Their 'plot to plate' ethos revolves around home-grown produce used to create new menus each day meaning you will find their delicious produce in every dish served in their restaurants.
The cruciform shape of the Ickworth greenhouse at The Pig hotel in Kent is an ideal structure for those with a larger space in their garden. Maximise your growing space with raised benching, built in raised beds, or external cold frames. Cold frames are perfect for keen vegetable growers as they provide extra space for overwintering plants such as garlic, and chard.

A Place in the Garden

The online luxury garden company, A Place in the Garden based in Horsham in West Sussex, is a family run business that stock beautiful decor for your garden. The recently renovated gardens have been inspired by renaissance properties of Italy and France and are inspiration for any proud gardener. Housed in the grounds is a Mottisfont greenhouse from the Alitex National Trust Greenhouse Collection.
Perfect for a beginner grower, the Mottisfont greenhouse provides ample space without feeling overwhelming. L-shaped benching allows you to keep floor space tidy and uncluttered in a
smaller area so you can tend to your plants efficiently. If you are considering more sustainable methods of gardening why not include a reservoir in your greenhouse? Collecting the rainwater from your gutters, this eco-friendly method reduces the amount of water you use and will stop plants from building up with lime scale from harder water.
Whether you're planning what to grow in your future greenhouse or want to revamp your existing one, visit some of the many public show sites where you will find our structures and get inspired.