A beautiful greenhouse is a joy to behold, but it's important to choose the right paving to complement the plants and overall design, so we invited our friends at Westminster Stone to put together a helpful guide on how to pick the perfect paving for your greenhouse.

The right paving can make your greenhouse look more inviting and stylish, and it can also help to protect the plants from the elements. Westminster Stone has been working closely with Alitex for many years. Providing paving for some of the most stunning greenhouses in the country and have featured at many of Alitex's RHS Chelsea and Hampton Court Flower Shows trade stands. In this blog post, we will share the different types of paving materials that are available and some tips on how to choose the right paving for your greenhouse.
Choosing the Right Greenhouse Paving

When choosing the right greenhouse paving, there are a few factors to consider:

The type of plants you will be growing: Some plants prefer to be grown in the shade, while others prefer full sun. Make sure to choose a paving material that will not heat up too much in the sun, or that will provide adequate shade for your plants. Take the colour and material of the paving into consideration- Darker colours will retain more heat and lighter colours will reflect it better.

The size of your greenhouse: If you have a large greenhouse, you may want to choose a more durable paving material, such as concrete or natural stone. If you have a small greenhouse, you may be able to get away with using a more rustic material like brick pavers.

Your personal style: Choose a paving material that you love and that will complement the overall design, purpose and colours of your greenhouse. With this in mind, we will go a little deeper into the materials on offer for your paving – so you can make the most informed decision for you.
Stonecast Paving – perfect for a traditional Feel
Concrete or Stonecast Paving is a versatile paving material that is extremely durable, easy to clean down and made to withstand the UK's adverse weather conditions – making it an ideal greenhouse paving option.
Westminster Stone's stonecast flagstones are replicated from old flagstone masters that have been hand-sourced and lovingly recreated in Shropshire. Offering an option to create instant maturity that's perfect for those with listed and period properties of those wanting to create character.
Our stonecast paving has featured at many Alitex RHS Flower Show stands. Including our Weathered York pictured in the header, Lancashire Mill styled by Selina Lake and our popular Henslate Paving to name just a few.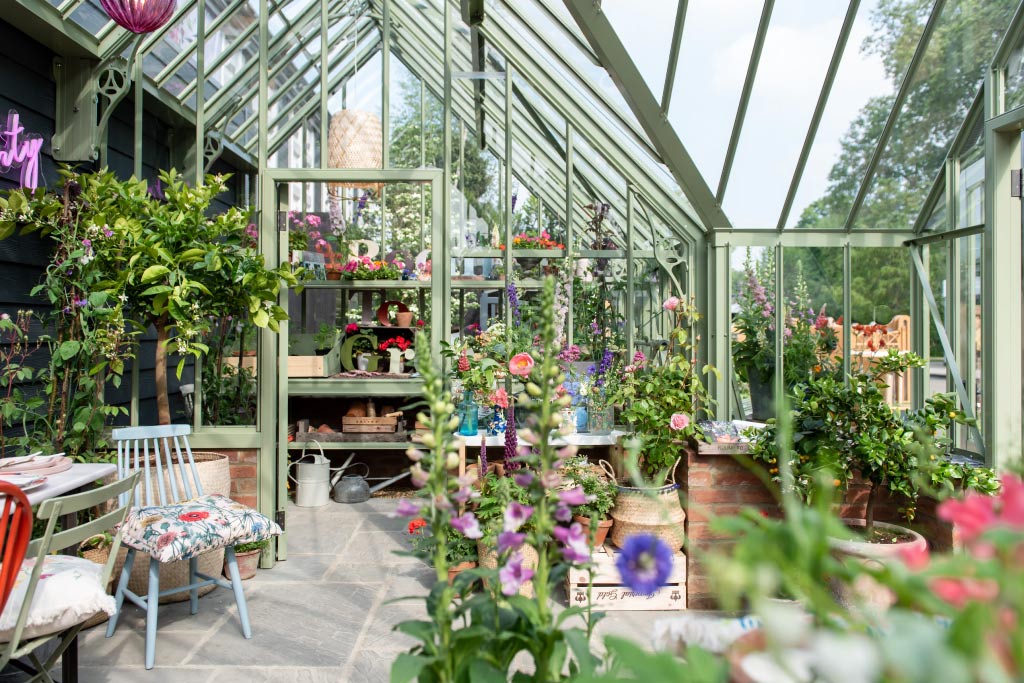 Porcelain Tiles for a Cool Contemporary Space
Possessing fantastic qualities such as durability, a non-slip surface and little to no maintenance, it's clear to see why porcelain paving has become such a popular choice over the years and offers a contemporary option for modern greenhouse designs.
Alitex have featured porcelain paving several times over the years including Ashbourne Beige for outside and Border Mudstone Porcelain inside the bespoke greenhouse at Chelsea 2021, styled by Selina Lake.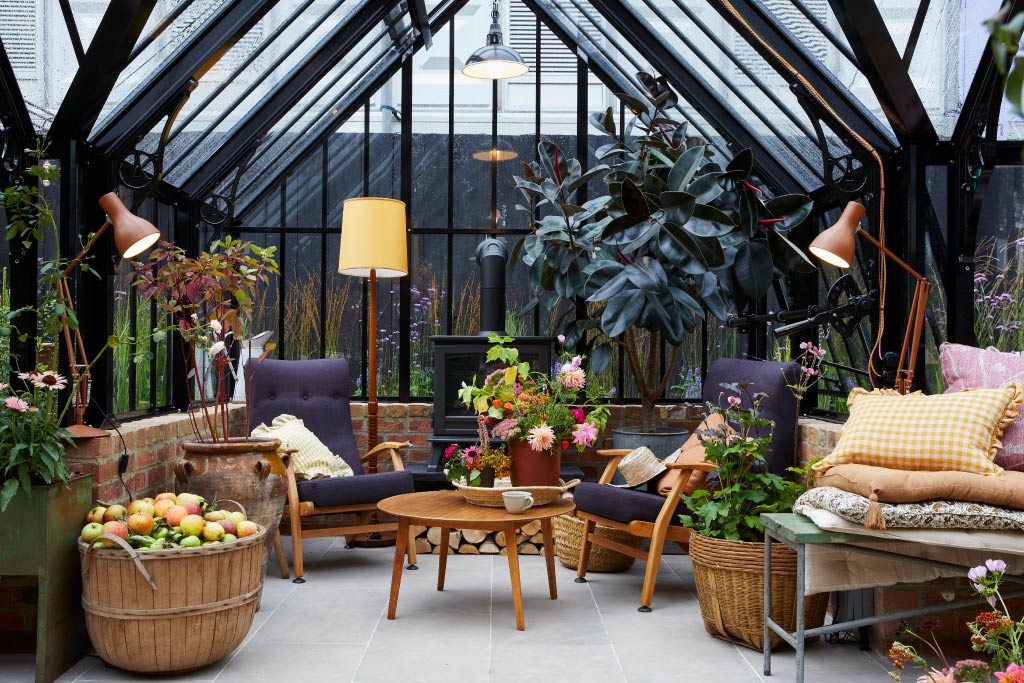 Brick Pavers provide a Rustic Charm
A timeless option thats perfect for rustic spaces, Brick pavers are a popular choice for greenhouses. Not only do they look the part but they are durable too. Our National Trust Brick Pavers have been a firm favourite at Cheslea Flower Show for over 10 years and are always a topic of conversation. They work well in small greenhouses and to break up larger flagstones too.
Natural stone for a more organic touch
Natural stone is another popular choice for greenhouse paving. It is available in a variety of colors, styles, and finishes, so you can choose the perfect ones to complement the look of your greenhouse. Natural stone is also very durable and can withstand the harsh conditions found in a greenhouse. Popular natural stone materials include slate and limestone, Natural stone paving is a perfect choice for areas that are prone to becoming wet so will be well suited to regular watering in a working greenhouse.
Our Lamb House Limestone has featured around the outside of many Alitex stands and has created a stunning base for raised planters and cold frames.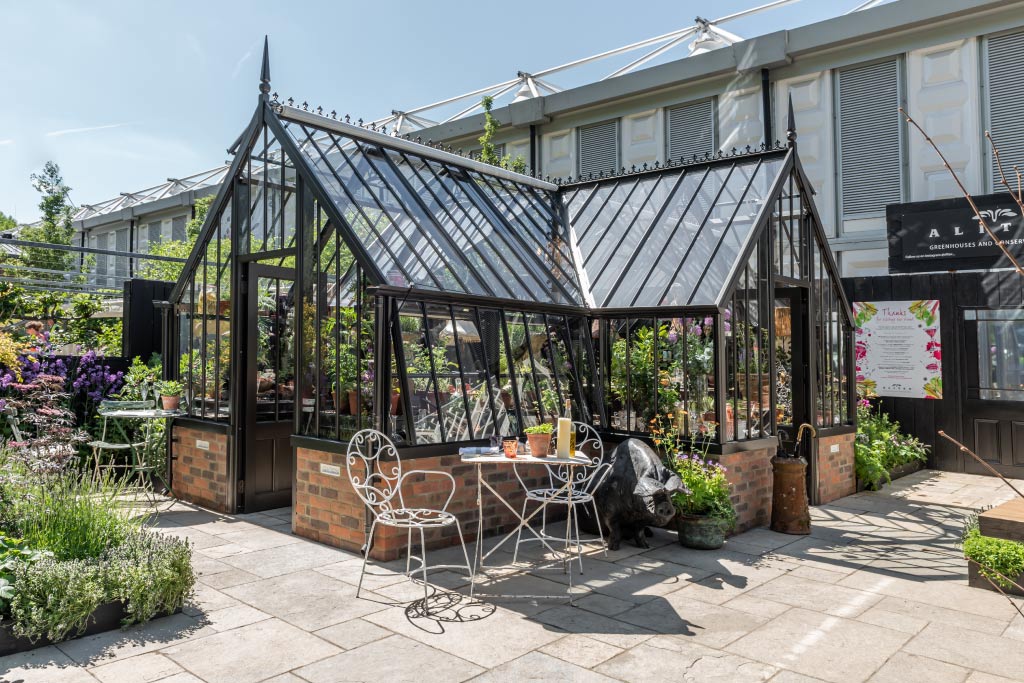 Terracotta Paving for character and warmth
Bringing a taste of the med into the garden – Terracotta tiles are a beautiful and versatile option for greenhouse paving. Not only are they durable and frostproof but they create a characterful and warming charm to any space. Our Chedworth Tiles have looked the part in Alitex's beautiful greenhouses, creating a real statement.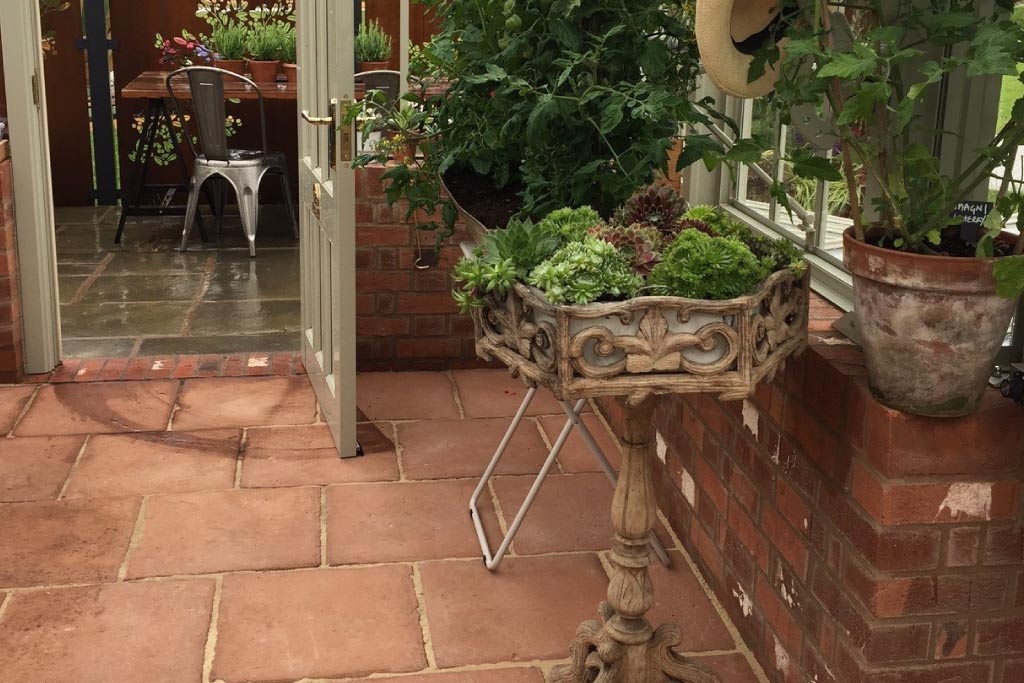 Get in touch with our friendly team today to discuss all of your greenhouse paving wants and needs. We can help you choose the right material, colour and finish for your beautiful Alitex greenhouse.