03 May 2016 By Tash Ellens
Over 15 years ago, Mr Caster CBE, had an original bespoke Alitex greenhouse built, and has been growing his collection ever since. In March we visited to see how he was getting on. His garden is normally filled to the brim with plants, vegetables and flavoursome fruits however, on this occasion, it currently sits dormant as he begins preparations to host his son's wedding reception in 2017 and focuses on his fantastic replacement house build.
As we walked into the walled garden we saw beautiful blossom trees on the left. In full bloom this spring, they will begin the growing journey of producing peaches, apricots and nectarines. On the far right we could see several rows of different apple and pear tree varieties. These trees still appeared young but Mr Caster assured us, planted as cordons, they do grow a wonderful selection of fruit. Although, this can be hit and miss as last year's pear trees became damp, writing some of them off. The time consuming solution is to move the pear trees up onto higher ground and replant the apple trees lower down as they can withstand damper soils. That's 42 trees to dig out and replant!
In 2012 Douglas chose to expand his Alitex collection with a double
greenhouse
which has been built below ground level. This unusual twin peak greenhouse is dug into the ground in order to lower both the roofs' heights, they are connected by a gutter running down the middle. The greenhouse features a specialised
strawberry gantry
, built in 2014. These are a bespoke creation from an idea that Douglas had, they stand on rails 4 feet above the ground to create ease of access when picking and tending to the strawberries. The gantry works on a manually operated roller systems that allows Mr Caster to move them from side to side on the rails effortlessly as he goes between the isles to collect the fruit, he can pick bucketful's within minutes! It's a fantastic invention and we've never seen anything like it.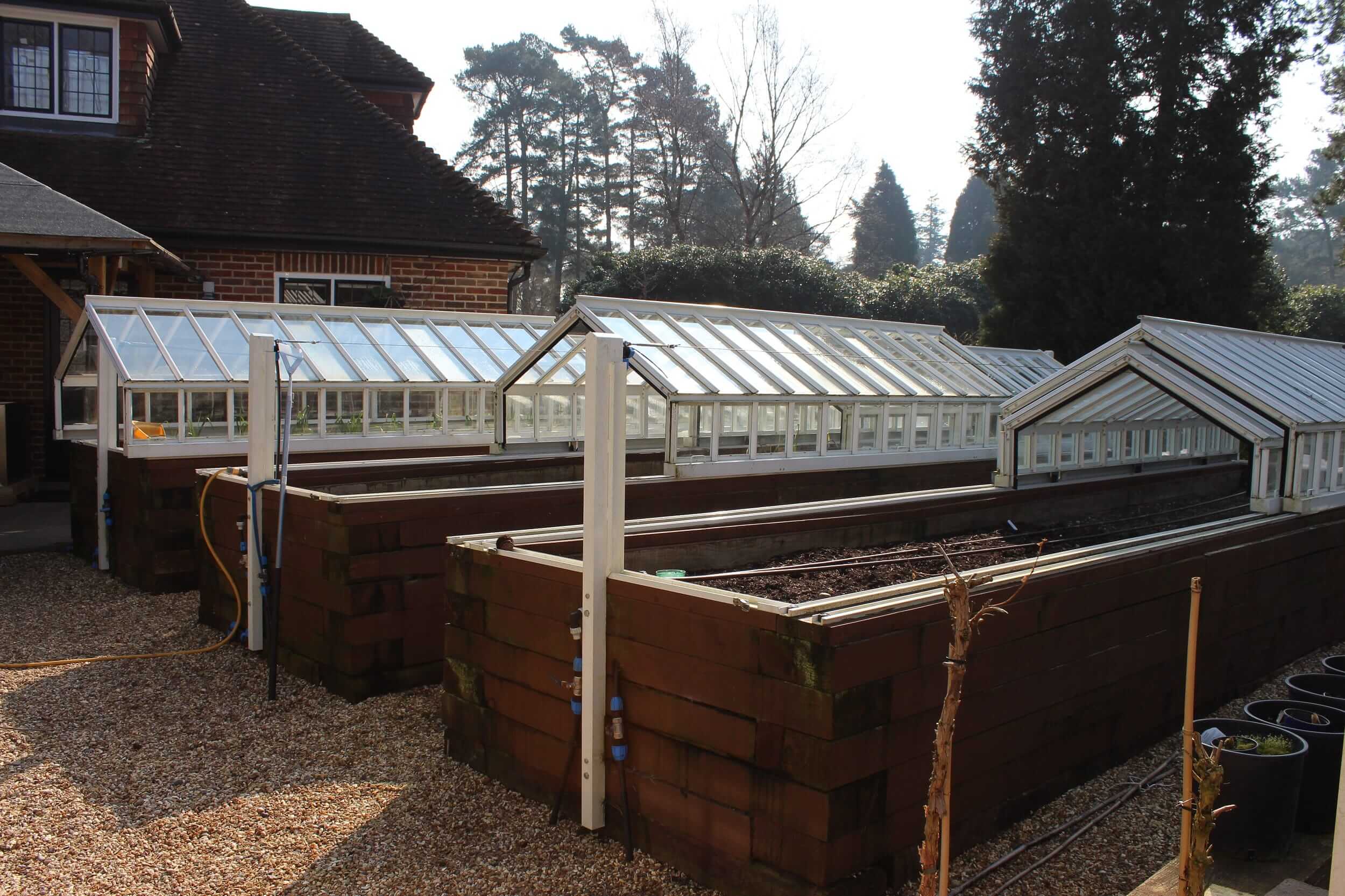 Forever the engineer the Douglas is, he came to us again with another idea in 2013 and collaborated to create his telescopic greenhouses. Four individual greenhouses fitted onto raised beds with larger and smaller panels that intersect allowing you to slide one over or under the other to gain access to the seedlings. An impressive collection that hosts leeks, beetroot, onion, cabbages, swede and cauliflower.
Mr Caster says; "These beds are raised so when we get older it will take the ouch out of gardening". A clever way to say that as the years pass he will still have the privilege of picking strawberries and vegetables with ease. Not only does he specialise in greenhouse creations but Mick, his brother-in-law acting as head gardener, is a horticultural expert specialising in strawberry growing to fulfil Douglas's love of the fruit.
If you have a well-engineered idea in your head or just something a little bespoke for your garden, do get in touch to discuss with one of our experienced sales designers. You'd be amazed at what we can come up with.