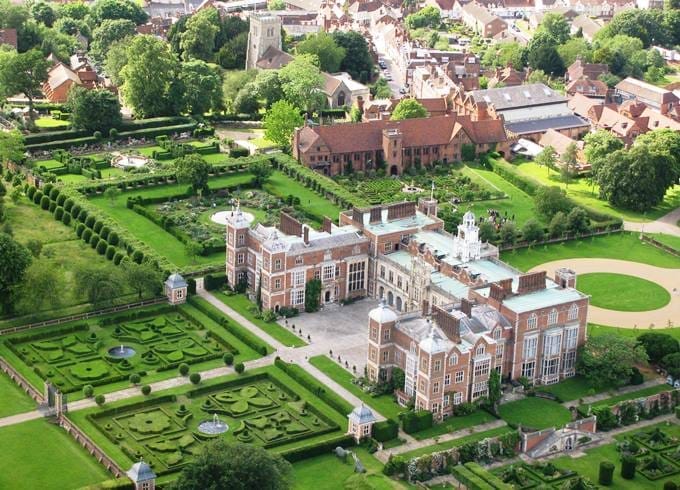 Join us for what promises to be a fabulous tour with Head Gardener Alistair Gunn of the renowned gardens at Hatfield House. To gain an understanding of the gardens and their history, read on.
"The garden at Hatfield House dates from the early 17th century when Robert Cecil employed John Tradescant the Elder to collect plants for his new home. Tradescant was sent to Europe where he found and brought back trees, bulbs, plants and fruit trees, which had never previously been grown in England.
Visitors can enjoy the sundial garden and fountains, and view the famous knot garden adjoining the Tudor Old Palace where Elizabeth I spent much of her childhood. Following the fashion for landscape gardening and some neglect in the 18th century, restoration of the garden started in earnest in Victorian times. Lady Gwendolen Cecil, younger daughter of Prime Minister Salisbury, designed the West Garden as it is today.
The adjoining woodland garden is at its best in spring with masses of naturalised daffodils and bluebells.
The East Garden was laid out by the 5th Marquess of Salisbury. This part of the Garden has elegant parterres, topiary and rare plants are a delight for the gardening enthusiast and for those wishing to spend a quiet time in idyllic surroundings. Designed to be viewed from the first floor of the House, the East Garden is only open to the public on one day each week during the visitor season."
Tour Details:
You will be guided around the landscaped gardens by Alistair Gunn, who previously worked in America (with orchids in particular). Your journey will take you around the East Garden where there is an older style greenhouse and a newer Alitex one, complete with temperate zones which house Lady Salisbury's orchid collection. The tour moves through to the South Gardens with its famous topiary and onto the West Garden with its sculptural sundial.
Refreshments are included.
Tickets £5 per person.
Please contact us to reserve your place – numbers are limited.
Here are the directions for Hatfield House.