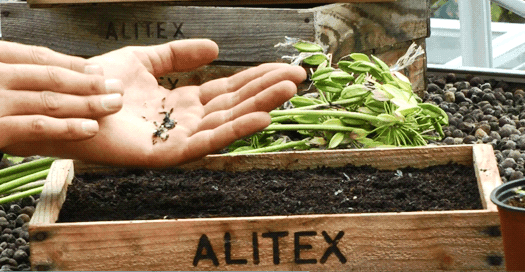 The second how-to video with John Wood, Head Gardener at the National Trust's Hinton Ampner, is now available on the Country Life website Gardens section.
The first video in the Alitex series, saw John giving propagation tips. The second is all about sowing seeds in late autumn. Again, filmed in our traditional lean-to greenhouse at Torberry Farm this time John demonstrates how to sow seeds.
He explains that at the end of the growing season it is a good idea for gardeners to take a walk around their garden (and their friends' gardens too, obviously!) collecting seeds to be able to produce more plants for the garden next year. For most seeds the best method is to collect them in clearly labelled paper bags to store over winter – you think you'll remember what they are but you really won't unless you label them! However some seeds, particularly small thin ones such as agapanthus and lillies, don't over-winter well so John recommends sowing them straight away in seed trays with only the lightest covering of soil. They will germinate in a couple of weeks in the greenhouse.
As with John's propagation tips, if you are successful with collecting and either sowing seeds now or storing them through the winter you'll have more plants for the next growing season – for free!
Once again our thanks go to John, who clearly has great screen presence, and well done to our greenhouse which continues ably in its all-important supporting role.