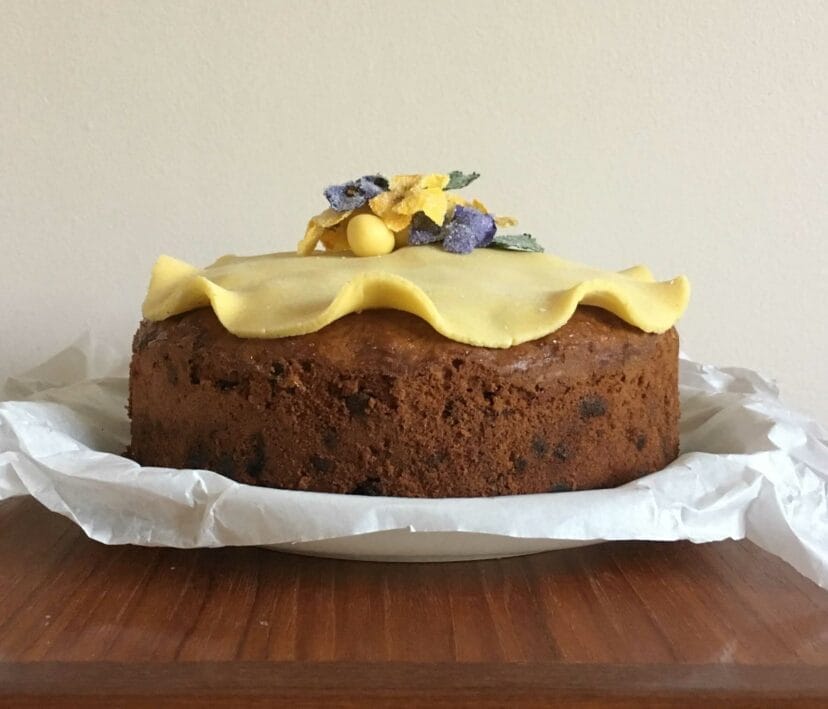 This Easter we've decided to share our recipe for a traditional Simnel cake. For a slight twist, we've topped it with crystallised flowers – we'll be sharing a video on 'How to make your own crystallised edible flowers' next week.
Simnel Cake Recipe
Ingredients:
200g marzipan
225g plain flour
1tsp baking powder
1tsp mixed spice
175g unsalted soft butter
175g golden sugar
3 eggs
3 tbsp milk
175g mixed dried fruit
225g sultanas
50g chopped almonds
zest of 1 orange
zest of 1 lemon
For the topping:
250g marzipan
apricot jam
Method:
Preheat the oven to 150°c. Grease and line a 20cm round loose-bottomed cake tin.

Sift the flour, baking powder and spices into a large mixing bowl. Add the butter, caster sugar and eggs – using an electric whisk, beat until creamy.

Whisk in the milk. Then fold in the fruit, nuts and grated zests.

Spoon half of the mixture into your prepared tin.

Roll out the marzipan to a 20cm circle and lay it over the mixture.

Pour in the rest of the cake mixture, levelling off the top.

Bake in the oven for about 2 hours, until the centre is firm – if the top starts to brown you can cover it with baking parchment.

Leave the cake in the tin for 15 minutes before turning it out onto a wire rack to finish cooling completely.

For the topping, warm the apricot jam to make it runnier for brushing over the top of the cake.

Roll out half the marzipan into a 22cm circle and place it onto the cake – use your forefinger and thumb to scallop the edges.

You can divide the rest of the marzipan into 11 pieces and roll them into balls – arrange them around the top of the cake.

I decided to top the cake with smaller marzipan ball in the centre with crystallised edible flowers.
Please share you Easter creations with us, whether you're trying out our Simnel cake recipe or creating Easter wreaths – share your pictures and tag @alitex_ on Instagram or @alitex on Twitter.