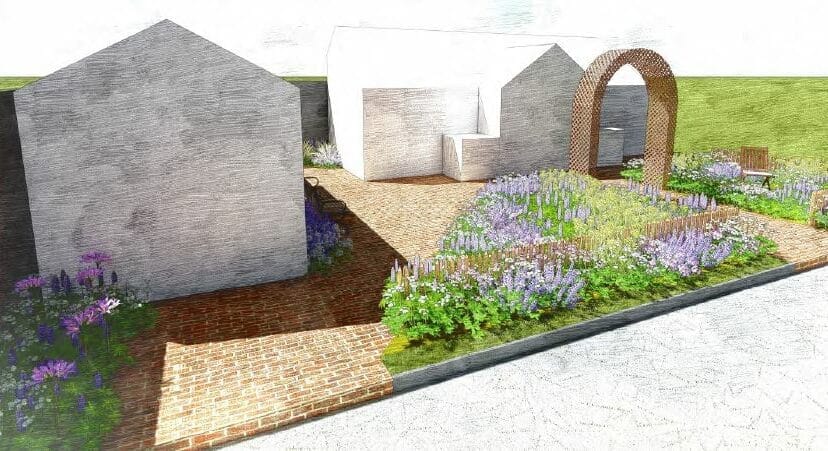 This year's RHS Chelsea Flower Show stand celebrates entomology, floral feasts and #greenhousegoals. You'll find us in our usual spot on Main Avenue, stand 334.
Structures
Whether you are looking for a practical growing area or a space for entertaining guests, the two greenhouses on our stand will provide plenty of inspiration. The Scotney from our National Trust Collection will be powder-coated in Wood Sage (one of our National Trust paint colours), demonstrating a functional low-maintenance design for keen gardeners with limited space.
The second greenhouse on our stand is a bespoke lean-to structure in Sussex Emerald. With a partition wall the glasshouse demonstrates how you can create two diverse environments within one structure.
The Alitex Collection by M&L Paints
Weaved throughout the stand will be a range of colours as we launch The Alitex Collection by M&L Paints. A palette of 15 colours that match, contrast and complement our most popular greenhouse shades.
Garden Design & Planting
Garden Designer Jake Curley will be returning to create another beautiful and inspirational garden setting for our Alitex greenhouses. Plants from Hortus Loci and Chichester Trees & Shrubs.
Styling
Our collaboration with acclaimed Author and Interior and Garden Stylist Selina Lake will bring a careful curation of colours and botanical displays to the stand. She will be helping to blend the wonderful new colours of The Alitex Paint Collection throughout the stand.
Builders
Our wonderful builders John and Harry Deacon have helped us put together the hard greenhouse bases and hard landscaping once again.
Flooring & Bricks
Travis Perkins have supplied us with Weinerberger Kassandra multi bricks.
Westminster Stone have provided their popular Jacobean brick pavers used for the walkways around the stand with Porcelain Spa Collection in Ashbourne Beige located in the greenhouses and seating areas.
Bee post by Green & Blue. A concrete bee tower that will be outside the National Trust Scotney.
Furniture
Scumble Goosie have supplied us with a beautiful mirror which will be hung against the wall in the lean-to greenhouse. Along with a small desk which you will find inside the National Trust Scotney greenhouse.
Garden Trading sell beautiful furniture and a selection of props which you will find throughout the stand.
Lighting
Love inc create neon lights which can also be made to order. We have two sets of neon lights for each of the greenhouses. 'Floral Party' and '#greenhousegoals'
Rothschild & Bickers have supplied us with some lovely tassel lights that will be hung inside the structures.
Fabrics & Cushions
Prints & Stationary
Surface View sell prints which you will find throughout the greenhouses.
Accessories
Sue Pryke creates beautiful ceramics, laid on the table in the lean-to glasshouse.
The Wooden Letters Company have supplied us with letters that spell out Room To Grow, these have been painted in M&L Paints Alitex Collection colours. Find them in the lean-to greenhouse as part of a feature wall. A real Instagram moment.