29 September 2015 By Sam Duke
Our Hampshire clients made the decision to invest in an Alitex conservatory back in June; after catching up with them to understand why they wanted this new addition to thier home, we wanted to share the project's journey from start to finish.
Part 2: The Design Process
The first task for the drawing office can sometimes be a planning drawing, but in this case the conservatory didn't require planning permission, so a ground plan was created straight away. The sketch from the project manager's initial chat with the client was passed over to Alitex designer, Mark, who then created a base and framework assembly in a wire frame, extrusions were then added to give a dummy view of what it will look like; doors, windows and vents were then put in; all of this was then transferred to a ground plan model which can then be printed, usually across six sheets of paper:
Sheet 1- Overview
Sheet 2- Specification sheet
Sheet 3- Section throughs (detail on each section.)
Sheet 4- Building works (showing detail of the base)
Sheet 5- Building works (detail of fixing brackets)
Sheet 6- Building works (builders notes.)
The above information was then given back to the project manager and taken to the client for approval.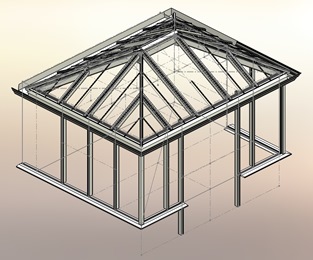 The reason this particular
conservatory
is being built, is so that our customers can enjoy the beautiful vista across their garden as well as open up a bit more space in their dining room; this means that the whole rear wall is going to be left open, leaving no where to fit the spandrel supports. "
We had to review how to support the rear eaves beam, which would normally be done using a box gutter spandrel; with aid from a structural engineer the solution was to fit a steel beam along side the eaves beam across the width of the structure."
Mark commented.
Once this challenge had been resolved and the ground plan signed off, a new production model is created; this uses individual modelled components which means that the shop floor and factory are able to use them. This production model, also helps to create all the drawings of each piece part, as well as aiding the camming software for the machines in the factory.
The glass can also be modelled to check the size and create ordering drawings. Another piece of software used is V6, this allows the designer to size standard or sashed windows as well as single and double doors. This then gives a detailed material and cut list to the factory. Once the project is complete it is issued to the project manager for checking, once signed off it is then passed to the production office.
Next week we will be tracking the project through the factory, keep an eye on The Green Room for more information and follow us on Twitter @Alitex.
Click the link to know more about how we design our conservatories.