25 April 2018 By Mark Diacono
That noise you just heard was dozens of garden designers exhaling with relief that spring has finally arrived. If we can just squeeze a couple of months worth of sun into the next few weeks, then we can all be confident of a fantastic Chelsea Flower Show.
If you have yet to visit the show, I'd really encourage you to. I was disinterested as hell until I went, and now I wouldn't miss it. It is a celebration of gardening, garden design - the ridiculous and the inspired - and if nothing else, you might get to bump into Ringo or Parky. What's not to like?
This year will be a little different to normal for me. I am excited to be more involved, with a connection to The Writer's Retreat Garden in The Great Pavilion. Pennard Plants have been inspired by my books - particularly A Year at Otter Farm and The New Kitchen Garden - to create a garden where a writer might feel creative, surrounded by the sounds, scent and view of an edible garden.
Not that it's a regular sort of edible garden. The space is 10m by 10m, an Alitex greenhouse forming the productive focal point, and a Riverside shepherd's hut where the pen meets paper. The greenhouse sits in a summer meadow, planted to draw beneficial insects to pollinate plants inside and out. In this more traditionally productive part of the garden is a fence of trained fruit, plus salads and herbs; the greenhouse itself full of Mediterranean favourites - peppers, tomatoes and (fingers crossed, if you are listening spring) watermelons among them. The tomatoes are particularly fascinating, as they are new varieties, four which will be launched at the show, all courtesy of Burpees. As well as being a productive and visual centrepiece, the greenhouse is, of course, the implied engine room for the garden, where young plants are raised from seed.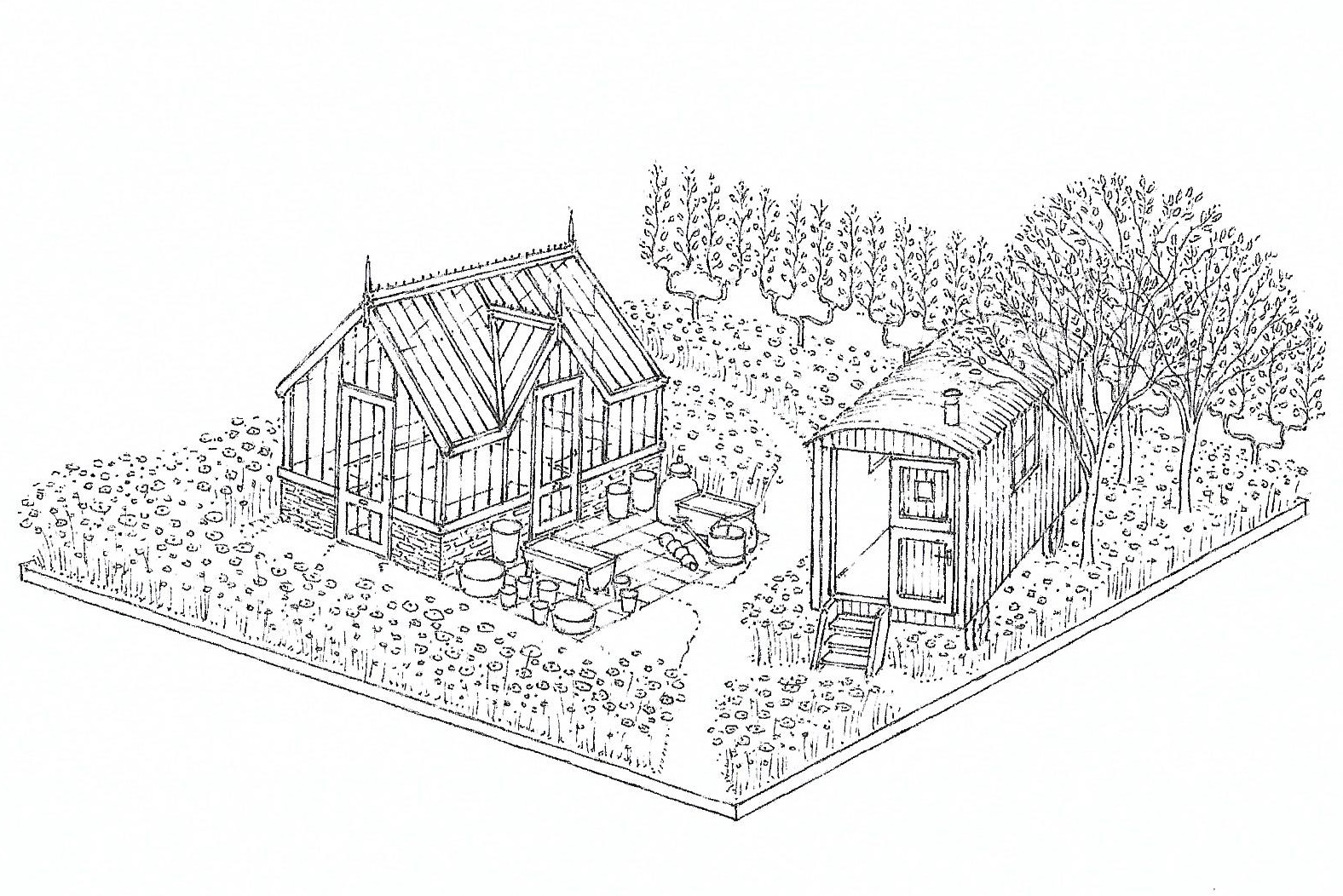 The greenhouse was carefully chosen. While it acts as the engine room for seedlings that enrich the whole garden, and also allows us to pretend a few square metres of the garden are nearer the Med, it has to look the part. Sometimes a greenhouse just needs to do its job and can be tucked out of the way; other times, like here, it has to sing and be as beautiful a part of the garden as the plants. At 2.6m x 4m the Panel Based Traditional Alitex Greenhouse has the perfect dimensions for growing heat-loving plants as well as starting everything off, and the style to take centre stage too. Exactly what we were after.
The other half of the garden is a little shadier, large apple trees offering dappled shade through part of the day. Still productive, the flavour of this part of the garden is slightly different, with Szechuan pepper and perennial vegetables, herbs, more trained fruit and the emphasis a little more on less familiar plants.
Although of different flavours, the garden is very much a whole - a place of tranquillity, full of scent and flowering plants and insects - very much what Otter Farm is about - an all feeding the creative process.
A Chelsea garden should always inspire and encourage others to recreate elements for their own patch, and the garden has been designed to ensure whether you have space for containers only, a garden with imperfect light, the sunniest of spots, a preference for the familiar or more unusual tastes, there is something for you.
On Chelsea Monday, Press Day, a vocal quartet will be at the garden to sing 'Oh Happy Day' to celebrate spring, Chelsea, the launch of a blight free tomato of the same name, and the pleasure a productive, creative space offers. Just before it, I shall be making a few garden cocktails - using ingredients growing in the garden - so who knows, maybe there will be some unexpected voices added to the quartet. I shall be making some on Tuesday too, so be sure to join us if you can.