Chelsea 2022 provided us with a double cause for celebration, not only was it our 70th year in business, but also our 60th outing to RHS Chelsea Flower Show! Celebration was very much the theme for our stand and who better to create some convivial hospitality than THE PIG Hotels.
Our stand muse Mark Diacono helped us bring our garden (MA334) to life. Alongside us was a host of Alitex friends; with planting by the unflappable Jake Curley, who helped bring our edible oasis to life; pre-loved gems sourced by Lamb & Newt, our neighbours at home in Hampshire who excel in styling with furniture and accessories to be re-loved; and paving from the very generous Westminster Stone. Nature lovers Green & Blue donated their beautiful Bee Bricks, which were built into the greenhouse walls, and our botanical bar was kitted out with some great British Booze.
Pennard Plants, recipients of the prestigious RHS "Master Grower" Award provided our stand with wonderful plants. From its Victorian walled garden in the heart of rural Somerset, Pennard Plants proudly grow one of the UK's largest selection of edible plants, as well as heritage and heirloom seeds.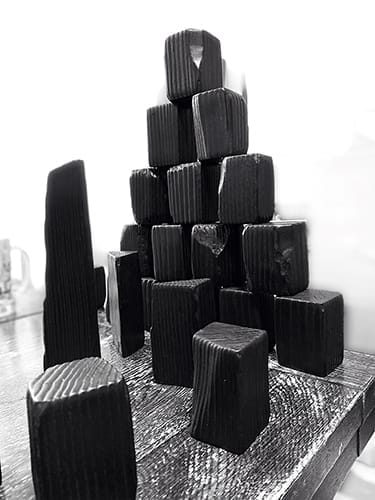 The Alitex stand also boasted a stunning rustic table, a creation of the exceptional, adventurous joiner Oli Carter. Fashioned from a solid 4m plank of cedar wood, the table was designed and crafted by Oli himself, donned with 8 matching stools. Environmentally-friendly and sustainably sourced, Oli creates robust, bespoke, and beautifully constructed wooden pieces with impeccable precision and attention to detail.
Our Greenhouses at Chelsea Flower Show
The Alitex garden featured two greenhouses from our National Trust Collection, our Mottisfont, a traditionally designed aluminium greenhouse which is a firm favourite for our seasonal growers, and the Ickworth, our modern greenhouse, ideal for keen gardeners as it boasts a spacious interior, perfect for entertaining as well as growing.
Our Mottisfont greenhouse was powder-coated in Downland Stone, and inside THE PIG demonstrated their plot-to-plate ethos, showcasing an array of aromatic and edible plants, to present the huge benefits and possibilities of growing your own.
The Ickworth provided a contrast. Powder-coated in Bronze Manganese, it was the idyllic setting for our Botanical Cocktail Bar. With an adventurous cocktail menu curated by Mark Diacono and THE PIG, our bar was stocked with Great British Booze. Our collaborators included Hepple Gin, Boatyard Vodka, Blighty Booch Kombucha and Simpsons English Sparking Wine. The Alitex stand was a sociable space and offered visitors the chance to take a moment from the bustling show to enjoy our beautiful greenhouses and it's floral fragrances.
We can't think of a better way to have celebrated our 70th business birthday than with our 60th stand at Chelsea. If you are missed us at the show, find out more about our greenhouses by requesting a brochure.