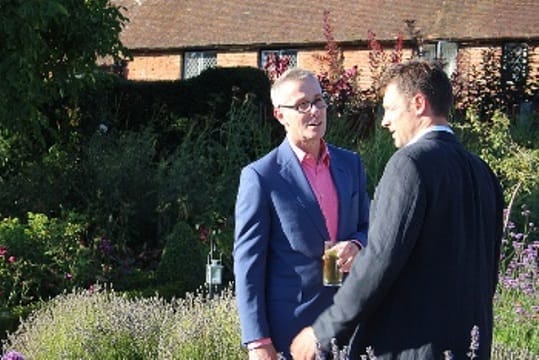 The Alitex team had been looking forward to our lecture for weeks – particularly the social media team, as we already had an insight into James Alexander Sinclair's easy to like style and horticultural confidence from Twitter and YouTube. James has developed the app intogardens for the ipad and his interest in new media is evident, complete with his olloclip for magical photos of stamen, dahlia leaves and seeds.
The setting at The Walled Garden at Cowdray, Midhurst, was at its very best in the early evening sunshine. Around one hundred guests from all over the county and from further afield enjoyed a walk around the gardens before we took our seats for the talk.
James had us laughing from the off. With a frank and charming delivery plus banter with old friends in the audience (Ann Marie Powell, Andy Sturgeon) we all seemed to passively soak up gardening tips and share his enthusiasm for "creating." The audience was packed with garden designers – professional and amateur and there was a shared sense of experience. For more cautious gardeners, advice from James was to start small, enjoy it and grow from there. In terms of weeding – if it comes out easily it's probably an expensive plant, weeds take a much firmer hold.
"Acquiring Knowledge Gently"
A wonderful expression to explain how James has accrued his vast library of experience. As a self taught gardener who graduated from hard landscaping to a realisation he was naturally putting plants together well and understanding their nature, James explained his learning over seven gardens.The considerations he thinks about when approaching any design are:
Style – what is the house like, what is already in place which will not be moving. Whatever is being designed needs to complement what exists already.
What can you see beyond – How will your design fit with the things you can't control. The water tank on top of an adjacent hill could be brought into your design if you bring it in line with new tree plantings or a water feature. Remember the role of the sky and how much it contributes to your landscape – you can rarely beat natural beauty so work to enhance it.
How people live – What do the garden owners want from their garden.
Plus – it's got to be fun, otherwise what's the point?
James used pictures to illustrate how these maxims effect his designs, including a small London garden, which when designed on a diagonal and with the introduction of a rill (plus considered planting) looked great. Cedar slat fencing also worked well in this small garden, it looked good and smelt great too.
Other words of advice included – don't plant yukkas either side of a path. They grow, then you'll spend each calm walk down your pathway being pricked by spikes. Planting plans are pointless – in practise everything gets moved around and you change your mind – as it should be and all part of the joy of gardens.
James extolled the beauty of working slowly in your garden if you are implementing grand changes. It is economical – without one huge outlay, it's practical as it allows your ideas to develop and change and it increases your learning. From a designer's point of view it also allows a relationship and friendship to grow with your client which is enriching. James expects a border to last around two years; he encourages rotation of planting schemes and ideas, replacing plants that don't do so well – he wants us to embrace change and keep things exciting. He also advises us that the old saying that quality will be remembered long after the bill is paid is invariably true in the garden design world.
From the feedback received today at Alitex everyone enjoyed the fun and humour of the talk last night. There have also been lots of comments from amateur gardeners about feeling emboldened to try things out and I think this has to do with James making something quite difficult appear easy and fun. Clearly his professional life ties in with his love of life and the simplicity of the joy he gets from gardening is infectious.
I love the idea of the garden rooms, where your eye is encouraged to wander beyond what you can immediately see. However I won't be able to think of this now without thinking about James saying that they actually have to deliver – what's the point of a couple of box balls? If you have dogs, by the way and wonder why they look burned (box, not dogs), try moving them into taller pots and notice the difference!
Steps should always be wide and even better if they can have a plinth down them so you can push the wheelbarrow up and down. Make use of discarded rubbish that you find in the garden by landscaping lumps, bumps and contours into the plan (an experience learned from the remnants of a tip found under six feet of soil.) Ensure you can unhook the top of your fruit cage so that snow won't weigh it down and break it. Your veg patch won't always look great because that is the nature of it – likewise "year round interest", means green!
James concluded his talk with a look at his own garden and how it was renovated which was fascinating. The thing that stuck in my head at the end of an evening packed with top tips and laughter was this from James:
"Gardens should make your heart beat faster and your knees weak. You should feel as though you want to run through shouting….Clothes optional (….beware of bees….) "
Huge thanks to all who came along last night – and to James, for a memorable evening.
Our image shows the lovely Sarah (Alitex) – this evening without hi-vis – taking advantage of our guest speaker (although she claims the hug is from Marina Christopher from Phoenix Perennials who had other obligations).