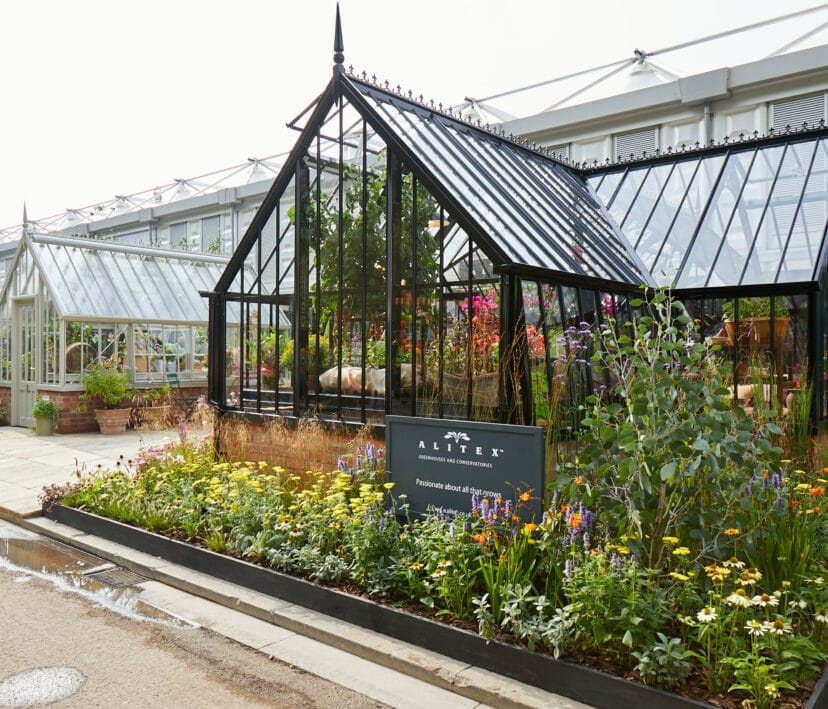 With Chelsea being held for the first time in September we wanted to reflect on how the season influenced our stand- making it a very memorable Chelsea. Normally with a pallet of blues, whites and greens September presented an opportunity to design something a little different.
Pink, oranges and yellows 'oh my!'
Selina Lake drew upon the rich colours of autumn to dress our striking black National Trust Ickworth. Mixing these bold tones with rich velvets and gingham, Selina created a cosy and inviting living space, complemented with a faux wood burner from Dimplex. Taking center stage we had a traditional tree grate atop with table and yellow gingham fabric. Selina had expertly arranged a mixture of Dahlias, Chinese lanterns, Sunflowers and Echinacea to create a bright but dramatic contrast to the black of the glasshouse.
Sustainable growing
In our Scotney glasshouse we had self-taught grower and basil queen Julia Parker of Parkers Patch with a stunning landscape of sustainable gardening options. From planting in eggshells to growing your own luffa sponges, Julia had plenty of options to inspire you to become a greener grower. Our Scotney was powder-coated in our most popular colour Wood Sage, with benching down one side for your plants and a small bistro table on the other to note down your planting schedule.
Planting by Jake Curley
Even with some slight challenges when it came to sourcing plants, Jake created a beautiful sea of pinks and yellows. If you want to create something similar, here are our top 10 of the plants we used:
Achillea ' Apfelblute'
Agastache 'Black Adder'
Echinacea 'Baby Swan'
Echinacea ' Mellow Yellows'
Guara 'Whirling Butterflies'
Hebe ' Blue Gem'
Sedum ' Brilliant'
Verbena bonariensis
Anemone 'September Charm'
Deschampsia 'Goldtau'