16 October 2018 By Kitty Yarrow
This summer brought soaring temperatures and a lack of rain however, every inch of the idyllic Kitchen Garden at The Pig is thriving. Ollie Hutson, Head Garden Manager discusses colour, flavour, resourcefulness and versatility, on a tour of the gardens.
Chillies feature heavily in the Alitex greenhouse this year at The Pig. A large amount of their seeds are bought from Sea Spring Seeds. The benches are brimming with wonderful pops of spicy colour, with a variety of shapes. Here are some favourites below:
spaghetti chilli 
Curly and long in shape, often growing up to 30cm in length, these chillies are a unique variety, often used to infuse oil. 
lemon drop chilli
Attractively bright and yellow, the Lemon Drop Chilli is on the hotter side of these plants but with a sparkling citrus undertone. 
fairy lights
A multitude of colours, resembling a string of cone fairy lights with their upward growth.
Hot juan
The comically named Hot Juan's fruit grows upwards. Turning from yellow to red as they mature and develop their signature spicy flavour. 
The Head Chef at The Pig, James Golding, tells us the chillies are used in a variety of recipes from slip pan roasted and salted padron peppers, to homemade harissa paste and infused chilli oil. These techniques are used to preserve the chillies for use throughout the year in salads and braised dishes.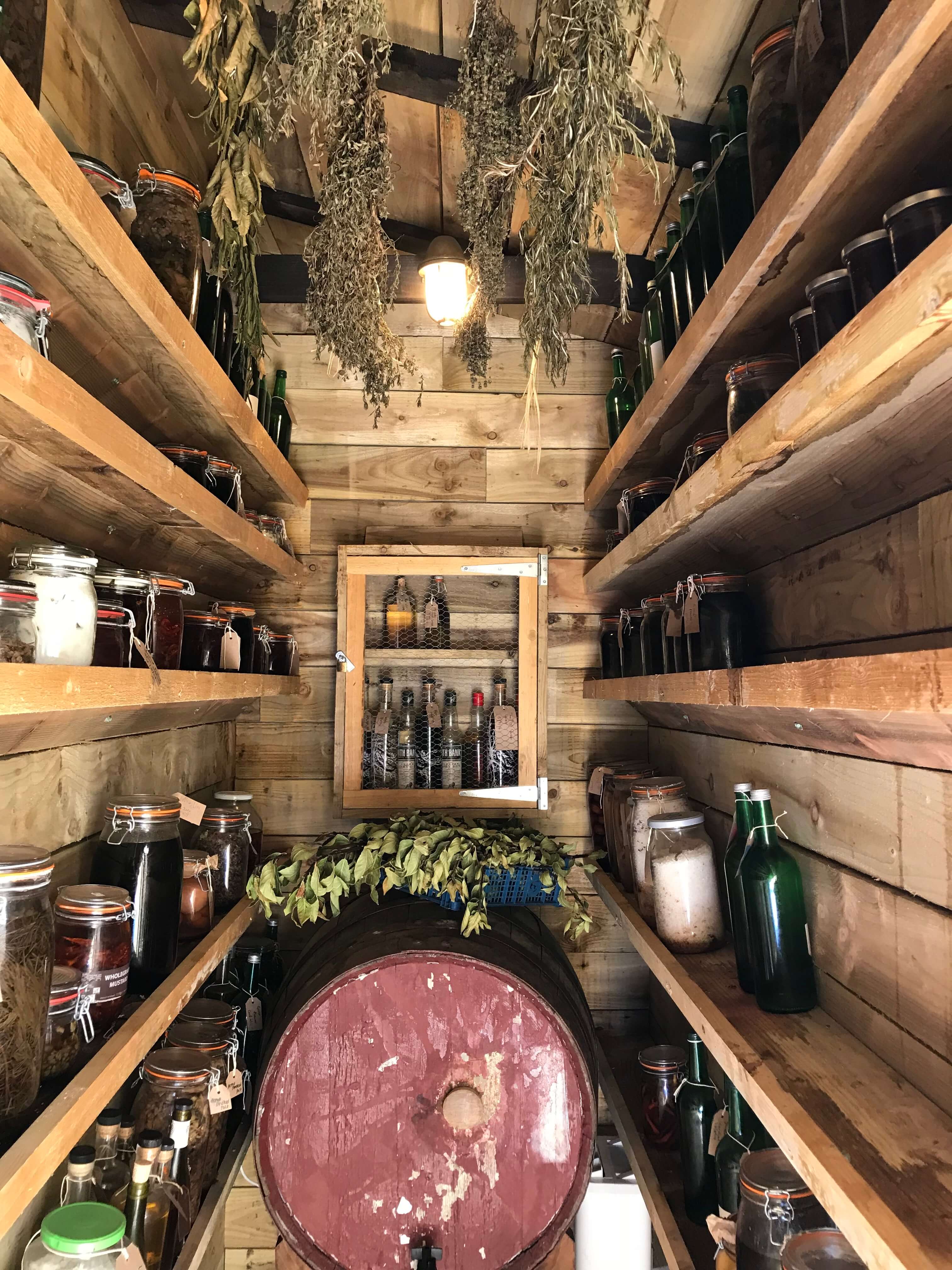 Positioned directly in front of the greenhouse the garden demonstrates maximisation of space with raised beds that incorporate the '3 sisters' planting method. These elevated beds introduce a resourceful planting method, consisting of; low growing plants that trail along the soil, vertical climbers and winding climbers. Arranged round triangular wooden canes, a multitude of squashes and climbing beans can be seen. Their hot and bright colours reflecting the interior of the greenhouse. This not only produces an aesthetically pleasing arrangement of vegetables but reduces the amount of watering that is needed. The Turbin Squashes have recently been turned into a puree in the kitchen and combined with Lyburn Old Winchester cheese to make delicious cheese and garden squash straws.
Stepping into the cool Mushroom House, The Pig's resourceful gardening continues. Growing between 10 to 20 kilos of mushrooms a week, the impressive display of fungi owes itself to grocycle. Full of nutrients, the blend of coffee and Oyster mushrooms that are collected and put into grow bags, allow mushrooms of all varieties to flourish so they can be harvested and enjoyed. James uses these in the Oyster mushroom vol-au-vents, mushroom and duck egg on toast and in their hearty pasta dishes. 
The Pig pride themselves in resourceful growing and this is reflected in the use of fresh produce straight from the garden to the kitchen. Ingredients are preserved or pickled and kept in the larder, providing the chefs with a continuous supply of produce that they can integrate into the delicious and expansive menu at The Pig Hotel all year round.