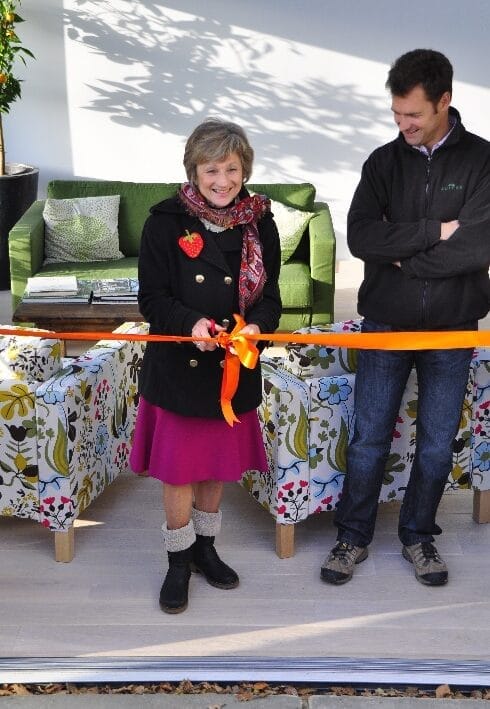 As you can imagine when considering any investment in a new structure at our Torberry show site, there are lots of varying opinions and ideas on how to go about it – our new atrium was no exception.
We did however all agree that the space was needed; not just for showcasing more options from our double glazed product range in a more contemporary style, but also as a space that visitors to Torberry would use and enjoy the year round, giving them a real insight into what it feels like to live in an Alitex structure. Over the last few months our vision for this new structure has become a reality and we are already benefitting from the space and genuine value in our investment.
The conceptualisation, design, manufacture, build and finishing of our new atrium was truly a team effort and it was only fitting that the launch was celebrated by the entire Alitex team. On a sunny crisp December morning – mince pies were warmed and mulled 'mock' cider (it was 10am) was brewed. The troops armed with their warming drink ventured outside for our celebration. Tom Hall started proceedings by welcoming his mother Mary Hall to officially open our new Atrium. It was only fitting that Mary Hall who opened Torberry Farm (our then new Alitex HQ in 2001), should pick up her ribbon scissors again. Mary eloquently blessed all those that built our atrium, those who will work in it and all those who will buy one for themselves!
Nick took centre stage to talk about the journey of the new Atrium which happily coincided with him joining Alitex in February 2012. A few words were said to mark the occasion and special thanks were given to Gary Birmingham for all his efforts in completing the project and to Nelly Hall whose eye for design in terms of both the actual atrium structure and interior have made our Torberry Atrium such a desirable space.
We are truly delighted with our new atrium; it has fulfilled our aspirations for another stellar example of our craftsmanship and eye for detail. It is a bright, inspiring space that we all love to use, so much so that we may need another one!
If you are interested in coming to Torberry to have a look at our atrium or for that matter any of our other structures including a mono-pitch greenhouse, the National Trust Mottisfont Greenhouse, our wood look inside and out glasshouse and our more classic conservatory – you are always welcome. You can even have a demonstration of our design studio capabilities and a tour of our factory. Any visit to Torberry now starts with a cup of tea in our new atrium which should make any journey worthwhile!