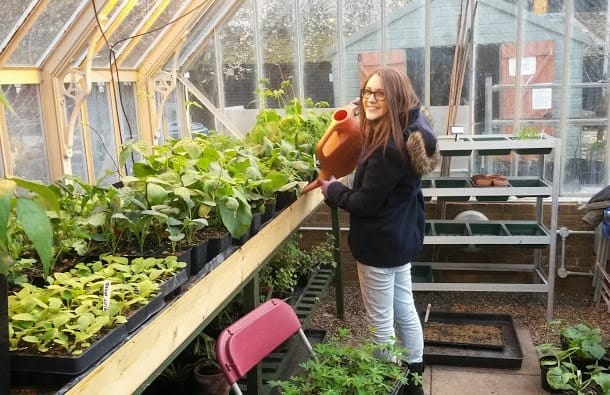 Thrive is a charity that uses gardening as a way to bring positive change to people living with disabilities or ill health. They are the leading charity in the UK that offers social and therapeutic horticulture (STH.) We have a great friendship with Thrive, not only do they have an Alitex greenhouse, they are using it to help grow the RHS Chelsea Flower Show crop for our stand. Content executive, Sam, dropped by to find out first-hand just how much this organisation means to the local community and beyond.
When I arrived at Battersea Park in London, it was hard to ignore the hustle and bustle that surrounded me. New to the area, I couldn't quite imagine that, hidden in the depths of this busy space, was a peaceful sanctuary, but after a short 10 minute walk through some beautiful greenery, I found Thrive.
Arriving just after brunch, I had a tour of the garden and learnt about the current projects before spending the afternoon working alongside the gardeners. It was apparent that this wasn't somewhere they were made to go, this was their second home and a place they looked forward to escaping to each week. Therapists, volunteers and gardeners got along as though they had all been friends for years. I instantly felt welcomed and even though a novice gardener, I was ready to get my hands dirty.
Outside of the large Alitex structure that took centre stage, there was a buzz of excitement, but once inside the greenhouse you could feel the calm environment that it created. It was the main hub, yet a peaceful area where life was flourishing; the gardeners were potting on, each set up with their own station, while I was given the task of watering. The room had a sense of security and warmth; I could see that the gardeners loved spending time in there.
One gardener helped me out with the hose whilst another showed me his lavender and sunflower crop; his voice was full of pride and it was inspiring. He noticed the water I'd spilt on my shoes and told me that the next time I drop by, a pair of size 7 water-proof boots will be ready and waiting.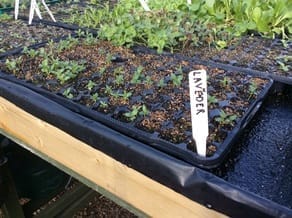 The plants that are grown here are taken across Battersea Park to Thrive HQ where they are displayed and sold to the public. It was my mum's birthday that day and as a keen gardener herself, the gift of some colourful potted pansies grown by the Thrive team seemed perfect.
There is a reason why experts are trying to get gardening prescribed on the NHS; not only did my arms get a great work out, I left feeling happy, care-free and contented. Research shows that gardening is helpful to people suffering with anxiety, depression or even recovering from a stroke. Chatting to someone you trust whilst getting your hands dirty takes away the pressure that face to face conversation can create. We were built to spend our time amongst nature and Thrive offers a beautiful green space for this community to get together, share stories and develop their skills.
Thrive's Horticultural Therapist Lou, summed up my experience and the fantastic attitude of the team, "I just have the best job in the world."
By Sam Duke
If you would like to visit the garden or get involved with the wonderful work Thrive undertake, visit their website.