14 October 2016 By Jack Lindfield
Often people think of Autumn as a time to reflect on the highlights of summer and prepare the garden to rest over winter. It's time to make the most of the glut of crops we've tendered through the summer months; apples and pears, pumpkins and squashes galore! There's no reason for the garden to start hibernating just yet; be productive with vegetable growing by making the most of the autumnal months.
Down to the Roots
It's easy to assume that now's the time to lift the last of the parsnips and beetroot before winter really settles in. But hold your horses, parsnips are tough and can withstand some fairly low temperatures, so leave them be for now and you'll have plenty to harvest over the Christmas period. If your garden is exposed and regular to frosts, try packing a layer of straw between the rows or put some horticultural fleece over them, this is also great for any beetroots leftover from summer which means you'll be able to serve earthy summery beetroots in the middle of November. And for those of you with a
greenhouse
or polytunnel, sow your carrots. With plenty of heat and an early enough sowing, you'll be able to grow perfectly good carrots for the bleaks of winter. Try Chantenay types such as 'Caracas' or 'Paris Market' as they're quicker to mature.
Eat Your Greens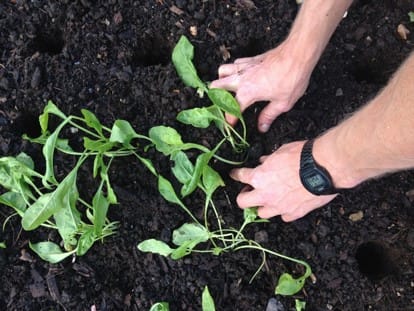 So now you've got your roasted parsnips and the beetroot pickling away, it's time for some vibrant and colourful mixed greens, and now is the time to plant them. Rainbow chard and giant winter spinach are two fantastic leafy crop to have all through winter. Plant them now as seedlings and you'll be picking from Christmas through to the start of March. Don't be too sparing either, make the most of your space by planting your seedlings a bit closer together and covering with horticultural fleece, this produces upright leaves with tall firm stalks. 
Winter Salad
Always make the most of growing undercover, whether it's a greenhouse, polytunnel or even just on the windowsill. Salad leaves are a great way to keep productivity flowing through the winter months and there's a huge variety of what you can grow.
Mustard leaves, salad rocket and baby lettuces can all be put in to the mix to create a fresh and colourful mixed salad, the best thing is to wait for a couple of weeks after the first crop and you'll get a second or even a third harvest from them. Though do consider re-sowing your beds or trays after a few cuts as the leaves can start to get a bit woody down the mid-rib and lose tenderness. You can also try breakfast radishes which mature really easily under cover, sow them direct in drills as you would salad leaves. If you haven't for a greenhouse or polytunnel, try planting winter lettuces outside and cover with horticultural fleece, a couple of good varieties include 'Winter Density' and 'Valdor'.
Courgette or Marrow?
If you grow courgettes most summers, let a few go to marrows. The good thing about marrows, other than taste, is that they have a better shelf life, this is due to having thicker skin than courgettes. Just pick them off the plant before the first frosts and hang them up with a log or onion sack, which are usually netted so it gives plenty of ventilation and will help them last well in to the winter. Make sure they have somewhere dry and cool like a shed or garage and keep them off the floor to avoid any rodents trying to feast on them.
The sun is sitting lower, the leaves are changing and autumn is really settling in, but rather than take what you can, turn over your plots and wait in anticipation until next year. Make the most of this time and the fruits of your labor will be greater than ever.
Jack Lindfield, Kitchen Gardener at The Pig in the Forest